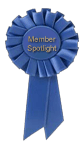 Occupation: Retirement is not the right word
City: New Paltz
State: New York
Member Since: December 2001
Last Login: 09/24/2023

i am not certain if every word that issues out of my pen is a blessing or a curse? Perhaps neither, but simply toil, like planting a tree is toil. Hopefully, you plant it on good enough soil and hope for an abundance of rain to sustain it. Hopefully some critters may deem it fit enough to set up abodes in the branches.

The following icons will enable you to enter different areas of this poet's library. Click on the appropriate icon to enter the area of your choice.