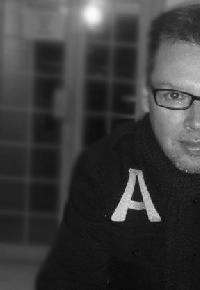 Occupation: Writer / Graphic Designer
City: Bagram, Afghanistan
Member Since: August 2006
Last Login: 04/11/2019

Young Duke grew up on his family's tator-tot farm in Northern Michigan. By age nine he had written his first novel, a manuscript that he scratched on the inside of an outhouse door.
Appropriately titled, "I Doo", the novel never sold a copy.

Years later, Duke Sinatra lives and writes in the Cleveland, OH area. He credits his bald spot as the window through which his inspiration rains.

Sinatra is merely the clever and creative mask of a writer by another name. A freelance author and graphic designer, the real guy behind the mask prefers to stay hidden.

The following icons will enable you to enter different areas of this poet's library. Click on the appropriate icon to enter the area of your choice.