In the Month of Spiders


by Chris Sorrenti


In the midst of a major electrical storm,
the lightning cast an enchanting glow
on the webs above my door.
My little guests had all moved on though,
the bird of September soon to arrive,
and I too longed already for the protective heat of July.

One like two summers ago,
when out on the meadows near Baskin's Beach,
I'd made a new friend; her oval abdomen
smooth as leather,
broken in patterns of yellow and black,
centered between that magic number
of five and three combined.

It was then I realized those numbers ruled me,
and had so in fact all my life;
sums and quotients of, multiples and dividends...
quite beyond my control,
yet there was no question or phobia of it,
as if some omnipotent instinct had clued me in.

My phone number rang with it, and so did my address,
both of which I had no part in choosing.
Could it be, I too was some mammilian cross-phylum
of the group arachnida? Pondering the zodiac,
and my birth under the sign of Scorpio.

As for my friend, she would not have me,
her tiny mind occupied with more important things:
the hum of moth wing, cricket leg serenade.
But oh what power! This machine of instinct,
as rigamortic she clung to her silken engineering,
yet legs spring loaded...ready for the kill.

It reminded me of my own kind;
how easy the large under-estimate the small,
the females of my species seeming always attracted
to the animals with longer legs.
That's O.K. though...
I've still had my share of guests
wandered into my parlor.

I made a new friend in fact the other day.
Her phone number even ends with the digit eight.
She's keeping me quite preoccupied,
though it may not be evident on the outside,
for silent I am, almost rigamortic,
waiting for that familiar ring,
as across the room my telephone sits;
only a fine thread separating the two of us.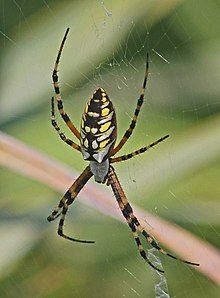 © 1992
Photo: Argiope aurantia (Common Garden Spider) courtesy of the Net

2,480 hits as of May 2022



08/09/2006
Author's Note: The Month of Spiders is an expression learned from my mother. Aside from the fact it's the 8th month and spiders have 8 legs, it refers to the fact that the month of August is when spiders in Canada grow to be their largest before cooler weather sets in. The female lay their eggs, then die, while the egg sacks survive Winter, with fully developed babies born in Spring. The experience of happening upon one of this species (Common Garden Spider) at Baskin's Beach really did happen. Unfortunately, I didn't have my camera with me.
Posted on 08/10/2006
Copyright © 2022 Chris Sorrenti
Member Comments on this Poem
Posted by J. P. Davies on 08/10/06 at 03:14 AM

Outstanding connection. You've woven quite the web here Chris...sorry couldn't resist. I really enjoyed the ending. I've also had the realization of our lives being tied to numbers. Cheers, Jordan
Posted by Glenn Currier on 08/10/06 at 03:52 AM

Oh Wow! What a cool poem... and the photos add to the sense of wonder about these tiny creatures and your words so skillfully spin a lively parallel of two species and two worlds. You caught me in your poetic web... a fly... to fly... I hope.
Posted by Kristina Woodhill on 08/10/06 at 04:31 AM

Our nursery is just asticky in webbery right now. I walk through it in the morning and catch my share of web in the face. eeeeek... I love how you tie this to numbers, phones lines, and the last line is perfect.
Posted by Jared Fladeland on 08/10/06 at 05:01 AM

the title, along with the part about discovering that numbers ruled you: brilliant.
Posted by Maria Terezia Ferencz on 08/10/06 at 08:10 AM

Carries an almost OCD fascintation throughout, very well done, love the thin line at the end......Funny how such a thin strand can fill so much space.
Posted by Maureen Glaude on 08/10/06 at 01:10 PM

Interesting how you thread the human with shorter legs and his issues into the spider world. Last night I saw a documentary on the problem of overly tall humans, a family of seven-footers or almost that, in their height, and their challenges. I also have been watching the sunlight on the hedge spider webs lately, it does look pretty. Good poem, I remember it well.
Posted by Christel Crews on 08/12/06 at 12:09 AM

wow! this is very interesting! truly a great write!
Posted by Angela Nuzzo on 08/12/06 at 05:15 AM

WOW! What a great comparison. I love all of the details that make this a very personal observation. It is obvious that you have spent quality time with your little friends. I really like the use of "rigamortic" at the end. I can just see you sitting on your couch with your legs spring-loaded, ready to jump for the phone when it rings. I'm sure many people can relate!
Posted by Maureen Glaude on 08/12/06 at 02:54 PM

You could even add a shot of the huge spider outside the National Art Gallery here, to this poem. Good work, fine poem and message. I may have commented already, I forgot to check.
Posted by Mara Meade on 08/13/06 at 01:26 AM

THIS is an incredible poem... I'm speechless at the way it, well, wound around in great description, even train of thought. Your web pulled me in!
Posted by Quentin S Clingerman on 08/13/06 at 03:12 AM

Quite an analogy! Quite the descriptive poem. Quite a picture! (I hate spiders! But find their webs fascinating. LOL!!)
Posted by Kyle Anne Kish on 08/14/06 at 04:25 PM

Chris, this is such a powerful and mind bending poem. Your comparison of the spider-to-man-to- woman-to-you slipped finely onto the page. Oh, the webs we weave. Beautiful! ~~ Kyle Anne
Posted by Kyle Anne Kish on 03/02/07 at 02:34 PM

Chris, congratulations on your POTD. Well deserved. :)
Posted by Kristina Woodhill on 03/02/07 at 03:13 PM

Really a fine, fine POTD!! I'm very glad to read this again.
Posted by Bruce W Niedt on 03/02/07 at 04:03 PM

Chris, this may well be your masterpiece! Don't know how I missed it - it's fabulous - wonderful metaphors and imagery, self-deprecating humor, and an eye for the minute that connects to the cosmic which is the mark of a good poet. Just flat-out excellent, buddy! Congrats on POTD - well-deserved.... d:-)
Posted by Scott Utley on 03/02/07 at 04:10 PM

Chris - This is amazing - you know, (I didn't read the other posts above so I may be redundant, but Native American Indians consider the spider a totem, one for writers - something to do with weaving a story and when they come to you or are around you, a writer you must be - that isn't why I never kill them if I can - under magnifying glass a spider is such a miraculous creation of brillient construction I couldn't possibly consider destroying the handiwork of a power so sublime as to create one - even today, I can put my hands in a jar of recluse or widow spiders or put my hands anywhere and never once have I been bitten - It's as if they know. Whew!
Posted by Kristine Briese on 03/02/07 at 04:38 PM

Oh, Chris, remarkable! I love it, despite my intense phobia. Congrats on POTD!
Posted by Gregory O'Neill on 03/02/07 at 07:12 PM

Congrats on your creepy-crawly potd, Chris.Excellent!
Posted by Maureen Glaude on 03/02/07 at 09:24 PM

congrats on POTD today with this one, Chris.
Posted by Michelle Angelini on 03/03/07 at 02:32 AM

Chris this is incredible! I love spiders and never kill them, but put them outside. I've always considered it bad luck to kill a spider, but not sure where that idea came from. Or, maybe it was that if I squashed a spider, it would rain. hmmmm, I may be responsible for the drought here in SoCal. CONGRATULATIONS ON POTD!
~Chelle~