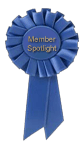 City: Perth
State: West
Country: Australia
Member Since: November 2000
Last Login: 11/27/2002

Audrey passed on 12/27/2002. Our condolences to her family. This library is locked and will stay here in her memory.

Hi! thanks for visiting my library, I appreciate your time and thoughts given. I hope you find something to your liking. :) Best wishes to your enjoyment.... "Thank you" :). (((11/21/02 Sorry to my friends, I won't be around for awhile again....I have to go back to hospital for more treatment.....it all returned too soon, bye for now)))

The following icons will enable you to enter different areas of this poet's library. Click on the appropriate icon to enter the area of your choice.