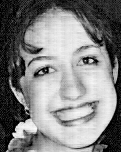 Occupation: Midwest farmer's daughter
City: New York
State: NY
Country: USA
Member Since: December 2000
Last Login: 08/09/2018

"Come hither, come hither, and be my lord,
For a merry bride am I.
I will kiss sweet kisses and speak sweet words;
oh listen, listen, your eyes shall glisten
when the sharp clear twang of golden chords
runs up the ridged sea.
Who can light on as happy a shore
All the world o'er, all the world o'er?"

--semi-memorized bits of Tennyson

I love to hear your thoughts, comments, criticisms... don't be shy.
AIM:theKillerKitten Mainon is a member of the following groups: College Poet Community and The Bell Jar.

The following icons will enable you to enter different areas of this poet's library. Click on the appropriate icon to enter the area of your choice.