So What Happened To Grady?


by Chris Sorrenti


Despite an early September frost, as usual, I opened the back door to let Grady in.

It was his habit to show up in the early morning, and for the next half hour, eat like a horse, then sleep it off till mid to late afternoon. He'd then get up, eat like a horse again, before disappearing the rest of the night.

Before bed, he'd climb up, plant himself on our chests...wrap his body around our heads, purring loudly as a young cat does.

This particular morning though...no Grady. I called several times over the next hour...but nothing. Instinct kicked in as I soon realized he wouldn't be back...still calling out for him in the weeks ahead.

Although never really our cat, more a neighborhood stray, we welcomed him anyway. Filled a wide gap left behind by the disappearance of our orange tabby, Morty.

In hindsight...we were blessed by Grady's presence...even if but for a few short months.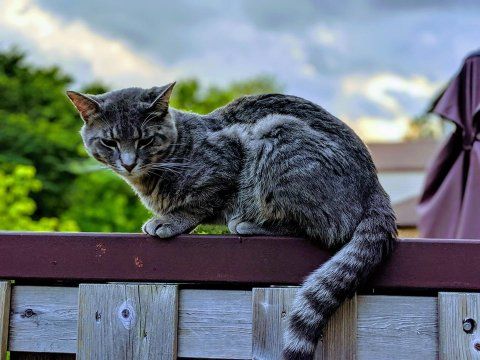 © 2020
Photo © July 2019 Jason Sorrenti

230 hits as of June 2020



02/05/2020
Author's Note: A vignette.
Posted on 02/05/2020
Copyright © 2020 Chris Sorrenti
Member Comments on this Poem
Posted by Brian Francis on 02/05/20 at 02:06 PM

I too had a friend show up in my life when I needed her (a black Manx) maybe we vibrate at an inaudible frequency when we are in need. Damn cat saved me in my darkest hour. You honor Grady I share your respect for him. Nice work.
Posted by Kristina Woodhill on 02/07/20 at 10:53 PM

He's a handsome fellow. This is a fine tribute to Grady wherever he might be feasting today.