Dinosaurs


by Chris Sorrenti


We are but ghosts now from the distant past,
silently observing your evolution.

For before the Age of Mammals…reign of Man,
before the great asteroid and the climate changed,
there existed here on Earth a world foreign
as any distant planet supporting life…
the Mesozoic era...Age of Reptiles;
we, born to it, taking our rule for granted.

And when mammals did appear,
some of us simply saw them as another source of food,
little realizing what was to come;
Nature never granted us the ability to imagine.

There was no need for machines…
technology...space travel.
For millions of years our society
in perfect balance...harmony;
predator and prey, one sustaining the other;
carnivores feeding off the weak, sick and old of herbivores.
Through this keeping numbers in check,
ensuring plenty of food for all.

Fortunately,
some of our members developed feathers and wings;
in hindsight…wisely kept to a smaller size.
They are still with you today in myriad variety;
subtle echo of our former glory.

In some ways, we are envious of the intelligence
that differentiates you from other species,
though far from ensuring your continued dominance.
For there is another phylum more diverse than both our kind,
existing even when our development still young…insects.
As small to you as your ancestors were to us,
and despite lacking the intelligence that sets you apart,
through instinct, sheer numbers…some, organization,
making up for it in so many ways.

Hopefully for your sake,
their dominance will remain science fiction.
From our own demise though...perhaps you will learn.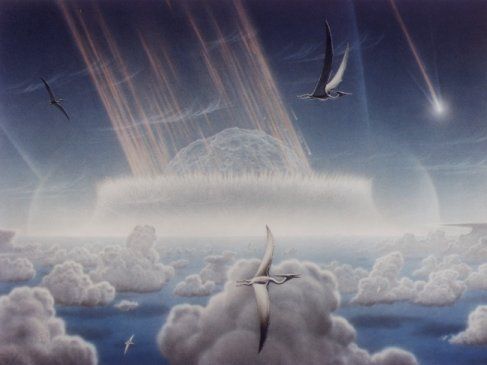 © 2001
Painting courtesy of the Net

1,040 hits as of July 2023


06/11/2015
Author's Note: The closing poem in Ripples.
Posted on 06/11/2015
Copyright © 2023 Chris Sorrenti
Member Comments on this Poem
Posted by Philip F De Pinto on 06/11/15 at 12:27 PM

lovely ode, Chris. it says a lot about what one long lived species thinks about another Johnny come lately to the block type species who thinks intelligence is the great divinator who decides who should move forward and who should not. unfortunately nature has something up its sleeve, versus which intelligence stands not a fiddler's chance. and that is good. cause man cannot think to live by intelligence alone. but by good horse sense. I think dinosaurs had it in spades, horse sense I mean. that is why they abided on this Earth so long. it is the bird brain that will last and not the fast buck homo sapien o'errated train brain gone completely off its track. a mammalian plea. bring back the horse.
Posted by Laura Doom on 06/13/15 at 11:13 PM

Lots of irony in this, I think. Good one Chris.