1984


by Chris Sorrenti






"Now I am become Death, the destroyer of worlds."
- scientist Robert Oppenheimer, quoting a line from the Bhagavad Gita,
upon witnessing the first successful test of an atomic bomb
at Trinity, Alamogordo, New Mexico, July 16th, 1945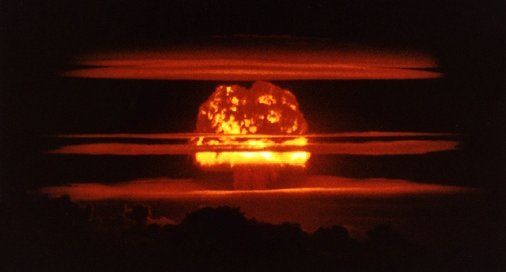 I saw them burning Einstein
in Fahrenheit 451
pondering if in the beginning
not also what we should have done
Hiroshima Nagasaki
having become the proverbial monster





the bombers and the missiles
tanks submarines
growing in their numbers
growing in their names
as all around through
newspaper radio television
I felt the tension
tightening of the spring
which side the first to call the bluff?
first to finally blink?





while now reaching beyond the solar system
sending greetings by Voyager space probe
to whoever might be out there
capable of understanding
though unable still
to feed our own starving
unable to love ourselves

and in this
I wondered the possibility
what if finally they came to visit?
make contact?
but found the residents all departed

© 1984
Revised © 2018
Photos courtesy of the Net





680 hits as of May 2020


10/09/2013
Posted on 10/09/2013
Copyright © 2020 Chris Sorrenti
Member Comments on this Poem
Posted by Kristina Woodhill on 10/09/13 at 03:12 PM

This gives me the shivers, Chris. You have captured our great strengths and our great weaknesses in this piece.
Posted by Ken Harnisch on 10/10/13 at 09:39 PM

I'm with you, Chris...say what you will but at least the protagonists in the Cold War had a semblance of rationality they could rely on with each other to keep Armageddon at bay.