Less Cluck But More Meat For Your Buck


by Chris Sorrenti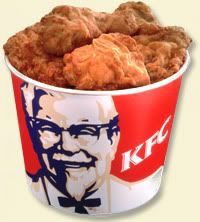 urban legend be damned!
my 17 year old son has it on good authority
(friend of a friend - no names)
there's some strange goings on
at those Kentucky Fried Chicken farms
enough to make Colonel Sanders rise from the grave
and sizzle in his own embalming fluid

word is KFC's legal title
to a genetically enhanced hybrid of poultry
little resembling mother nature's original recipe…
bigger breasts, larger wings - more muscular legs
yet just as tender - and whammo!
11 different herbs and spices
takes on a whole new meaning

my son further points out
as we're stuffing our faces with the evidence tonight
the word 'Chicken' can no longer be found
on any of the packaging
and faster than you can ask
why did the mutant cross the road?
gall darn - he was right - I checked!

so the next time you've a craving for extra crispy
and while licking your fingers
suddenly get an urge to crow like a rooster on steroids
can't say a friend (no names) didn't warn you!




© 2000
Inspired by an urban legend


1,250 hits as of June 2020



11/28/2006
Author's Note: Won honorable mention in the 2001 Ray Burrell Award, Ottawa, Canada, and subsequently published in Vol. 11 of The Grist Mill, Autumn 2002.
Posted on 11/29/2006
Copyright © 2020 Chris Sorrenti
Member Comments on this Poem
Posted by Tony Young on 11/29/06 at 02:42 AM

My first smile today Chris, thanks so much for this......
Posted by Gabriel Ricard on 11/29/06 at 03:46 AM

I can see why. This is awesome.
Posted by Katerina T Nix on 11/29/06 at 04:40 AM

Thank God I don't eat KFC..... well except for that one time... Ok, two times! hhhmmm, great read, Chris. Well done ;) Kat.
Posted by Gregory O'Neill on 11/29/06 at 05:34 AM

Excellent blast at a contemporary myth. Belated congrats on the award! Well done (as chicken should be, eh?).
Posted by Kristina Woodhill on 11/29/06 at 05:41 AM

Enjoyable from title to ending, author's note and dancing chicken. Thanks! :):)
Posted by Christel Crews on 11/29/06 at 09:29 PM

oh, i love it! i try to stay away from fast food, in general.. its healthier that way, but next time i get that craving, i'll think of you!
Posted by Quentin S Clingerman on 11/30/06 at 02:39 AM

A humorous take on KFC! The sarcasm tastes just as good! I remember when KFC was served in regular restaurants on ceramic or china dishes! That dates me! I think it tasted better back then! :0)
Posted by Morgan D Hafele on 11/30/06 at 05:59 AM

hahaha chris this is freaking awesome!
Posted by Ginette T Belle on 12/01/06 at 01:57 AM

tres funny...my husband will LOVE this one (we have fights about ordering the stuff all the time)...you are a wonderful writer
Posted by Michelle Angelini on 12/02/06 at 05:03 AM

Thanks Chris, you've just scared me away from eating meat forever, especially since I don't eat it now. Good one...
~Chelle~
Posted by Maureen Glaude on 12/02/06 at 09:29 PM

thanks for making me crave it. And they're now leading the way in making a healthier treat, re transfats gone soon, but I loved this poem and congrats to a fellow successful poet at Valley Writers' Grist Mill.