Falaise Pocket


by Chris Sorrenti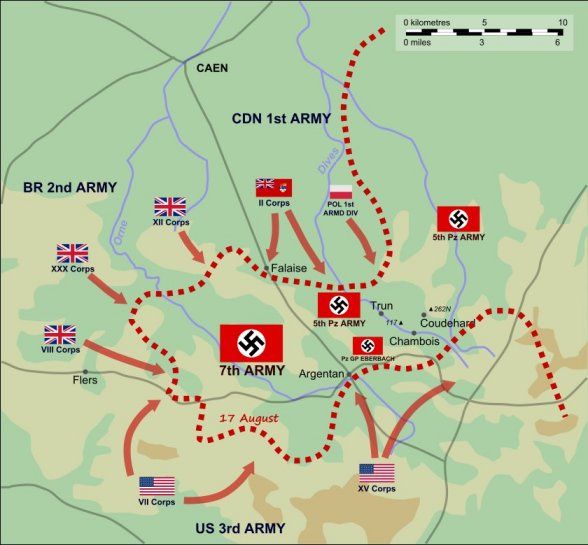 Despite a gallant effort to push the Allies back into the sea, and unable to hold Caen, the German High Command soon realized the full gravity of the situation, and ordered an organized retreat out of Normandy.

With Caen finally secured by the Allies, in one of the classic pincer movements of World War II, with the British, Canadians, and Polish attacking from the north, and Americans, French from the south, the German 7th army quickly found itself at an extreme disadvantage.
With no air cover, the Germans were soon under attack by British Hawker Typhoon fighter-bombers.

Originally designed as a replacement for the Hawker Hurricane interceptor of Battle of Britain fame, the Typhoon found its true niche in ground attack. As per the painting below, armed with cannons and air-to-surface rockets, it proved lethally effective against German armor and other ground targets.

Despite the carnage from above, the Germans were masters at salvaging bad situations, and so with elements fighting a determined rear-guard action, who/what hadn't been killed or destroyed slipped through before the Allies sealed the noose.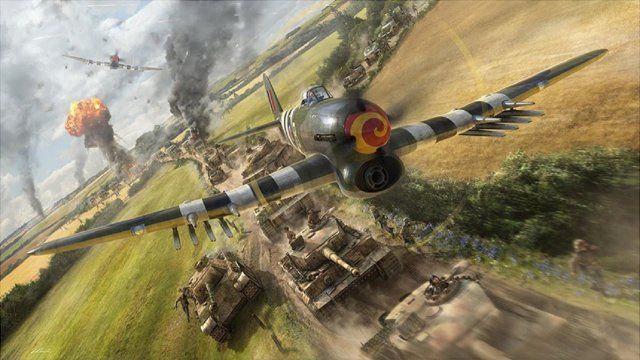 © November 11, 2017

Map courtesy of Wikipedia
Painting courtesy of Allied Warbirds and Pilots of WWII FB group

520 hits as of October 2021


05/02/2019
Posted on 05/02/2019
Copyright © 2021 Chris Sorrenti