Candy Cane à la Salvador Dali


by Chris Sorrenti


From the five year old who colored square fruit on his first apple tree...

The strangest candy cane ever made; uneven Paper Mache long ago solidified.
Its red and green stripes (never thought of using white) still covered in gold sparkles,
sprinkled with loving care by an innocent artist's hand some forty years before.

Every Christmas, mom and dad delicately lift this kindergarten keepsake
to its rightful place on the tree; easily standing out amid the ornamental clones;
worthy of a perennial laugh over a cup of eggnog.

And like its creator...those square apples...good for another forty years.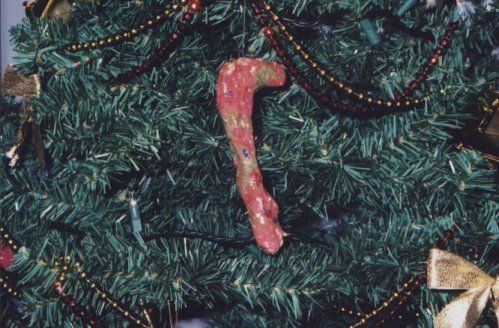 © 2000
Photo © 2006 by author

520 hits as of July 2020



12/08/2015
Author's Note: Published in the poetry magazine, Alter Vox (2000), Ottawa, Canada. Produced by Luciano Diaz.
Posted on 12/08/2015
Copyright © 2020 Chris Sorrenti