November Gift


by Chris Sorrenti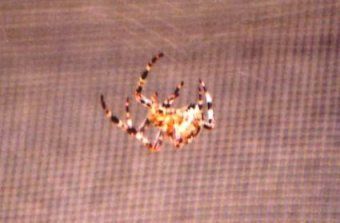 for me and the solitary spider
outside my kitchen window
unusually warm
allowing one more day of life
repair of its web for visitors
almost certain not to arrive

finishing the dishes
I contemplate the pointlessness
envious of the spider's lack of concern
at what tomorrow may not bring

had planned lugging the camera to work
the same species commonplace in summer
outside my office window

set the zoom on macro
snap a whole roll of film
wondering if my subject's aware
its fifteen minutes of fame
has all but passed away

overnight
the temperature drops
morning kitchen window empty again
but for a new web
without a spider




Poem and photos © 2000 by author

840 hits as of July 2020

Sound Cloud recording © 2015 Chris Sorrenti; produced by Jason Sorrenti © Crooked Symposium Productions






11/04/2014
Author's Note: Published in the T.O.P.S. anthology, Rocks and Rhythm, edited by Lenny Everson, berry days books, Spring 2003. ISBN 0-9687157-3-7
Posted on 11/04/2014
Copyright © 2020 Chris Sorrenti
Member Comments on this Poem
Posted by Michele Schottelkorb on 11/05/14 at 06:02 AM

Chris... It has been a long time. Your poem, my first to read here on pathetic.org in literally years. And, my how my awareness and insight has matured. As has yours... I will returning to read again... For the spider, not so unlike ourselves, would wish for nothing less, if it were allowed to wish. I adore this poem. Thank you for sharing it and I am grateful to read it tonight.
Posted by Ken Harnisch on 11/05/14 at 10:24 PM

a unique offering, Chris...and very well "spun," to coin a pun..:)
Posted by Quentin S Clingerman on 11/08/14 at 10:56 PM

Very emphatic expression of the unusual warmth of a Canada day in Nov. Very colorful spider.