Atop The Central Yellow


by Chris Sorrenti


I see all the big kids
having lots of fun
riding their two wheeled tricycles
sitting on the gun
bang bang bang
go the silver spokes around
building up that sound
flight inches off the ground
atop the central yellow

I see myself up on those wheels
someday finally free
the road below rushing by
me sitting on that gun
going bang bang bang
here comes the straight run
the sound of the wind all through my hair
and I won't have a care in the world
when atop the central yellow
cause I know it's only an artery
leading to something bigger

So daddy won't you buy me a bicycle
help me off the ground
let me hear that sound
hold the back so I don't fall
until I've got the hang of it
cause someday soon yes I'll be flying
along the straight and narrow
going places I never dreamed of
atop the central yellow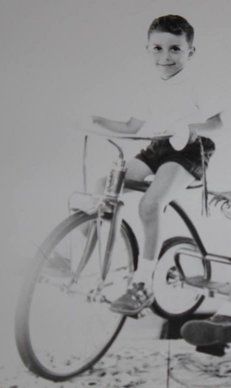 © 1982
Photo © by author

860 hits as of June 2020



05/06/2011
Author's Note: Published in The Ontario Poetry Society (T.O.P.S.) chap book Verse Afire Vol. 2 No. 2 May to August 2006, Toronto, ON. I.B. Iskob Editor/Publisher. ISSN 1715-0280
Posted on 05/07/2011
Copyright © 2020 Chris Sorrenti
Member Comments on this Poem
Posted by Gregory O'Neill on 05/07/11 at 09:23 PM

Memorable and nostalgic. Wish yearning were still that simple. Delighted. Thanks.
Posted by Steve Michaels on 05/07/11 at 10:14 PM

Wow, this is awesome!
Posted by Morgan D Hafele on 05/19/11 at 06:13 AM

great look back at learning to ride. i think it's about time to get back on the old bike.
Posted by Doreen Cavazza on 05/23/11 at 04:40 PM

This brings back memories. A very melancholy and wonderful write. A charming piece that brought a bit of sunshine and made me smile on a rainy day.
Posted by Lori Blair on 12/05/11 at 12:40 AM

Most Excellent Chris and how I can hear the sounds of such bang, bang, bang...there is an echo here of reasoning..thank you