A Frog's Kiss (artwork included)


by Clara Mae Gregory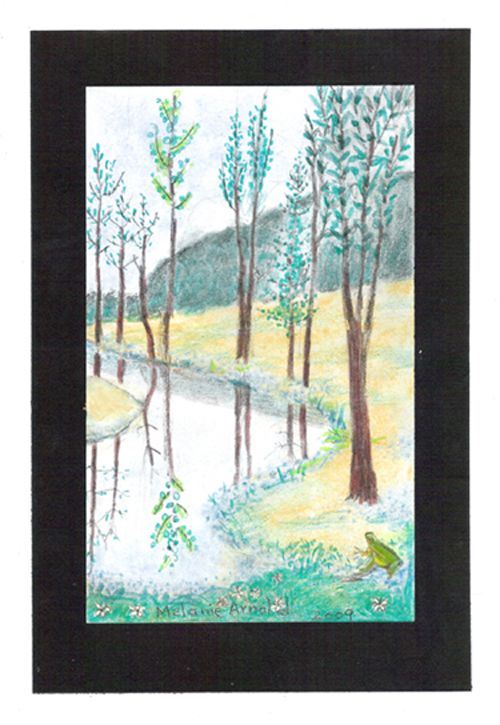 A Frog's Kiss

The temperate dawn's luminous lights
warmed and aroused Earth's garden delights.
A slumbering morning glory raises her head
as her blue petaled bells stretch and spread.

Violet-blue gentians are folded still,
awaiting relief from the evening's chill.
In radiant warmth their blossoms grew
into perennial bouquets and tonic brew.

Growing with Gray's Lily and Solomen's Seal
were soothing herbs, sweet flowers that heal.
Love's fairytale is in the forest of make-believe
near yellow wood-sorrels with green trefoil leaves.

A magic kiss is awaiting a little green frog,
under the ranunculus, down by the damp bog
where a lavender light fills the fantasy's dusk,
warming the love lingering in luminous lust.

Warm and aroused inside Earth's garden's delights,
Blossoms lay in flower beds the rest of the night.
And the Prince of a frog no longer will grieve
by the yellow wood-sorrels with green trefoil leaves.




(revised 8-12-09)

03/12/2009
Author's Note: This is a repost but also revised. The artwork was done today(8-12-09). It is chalk pastels,colored pencils and regular pencil.
Posted on 08/13/2009
Copyright © 2023 Clara Mae Gregory
Member Comments on this Poem
Posted by A. Paige White on 08/13/09 at 02:46 PM

This is beautiful! Both poem and picture. Gorgeous indeed to a frog lover like myself. Now I've got to look up the flowers and stuff you wrote about. ~;->
Posted by Sam Richmond on 04/20/11 at 09:47 AM

Dear Clara Mae; Lest I forget, I love the artwork. It really enhances your lovely poem. I'm really glad that 'A Frog's Kiss' is the first poem I found of yours. It's one of my favorite kinds of poetry. There is a childlike quality of purity with imagery and movement throughout. The read does not lag anywhere and you close so strongly and well. Oh ... and I LIKE frog poems!
Posted by Kristina Woodhill on 03/01/20 at 01:38 AM

Congrats on POTD! Really a smooth flow to this piece, great images, and plenty of flowers for this gardener to enjoy.