in the bamboo garden (haiku)


by Kathleen Wilson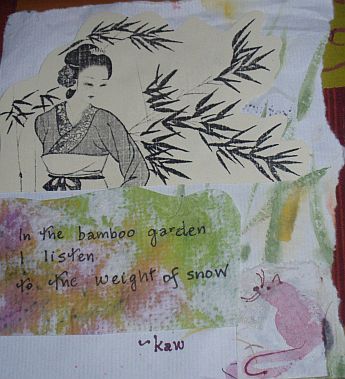 in the bamboo garden
I listen
to the weight of snow



watercolor and ink
collage of painted Chinese lady
by Kath Abela Wilson

01/12/2008
Author's Note: Third Place winner (haiku only) of Pinewood Haiku Contest, 2008. Also published in "Rattle of Bamboo", Southern California Haiku Study Groups' Anthology, 2008. This was #18 of 61 original artworks and haiku in response to other haiku poets.
Posted on 01/13/2008
Copyright © 2018 Kathleen Wilson
Member Comments on this Poem
Posted by Kristina Woodhill on 01/13/08 at 04:11 AM

Each unique haiku creation continues to delight my eyes.
Posted by Mary Frances Spencer on 01/13/08 at 05:07 AM

I'm really enjoying these postings! Such colorful New Year's greetings! MFS
Posted by A. Paige White on 01/13/08 at 01:19 PM

Your talented collages refresh the New Year day by day and chase away any hint of stale. Another gorgeous work.
Posted by Maria Massarella on 01/16/08 at 08:35 PM

Each is more beautiful than the previous ... in words and in art ... m.a