distant mountain snow (haiku)


by Kathleen Wilson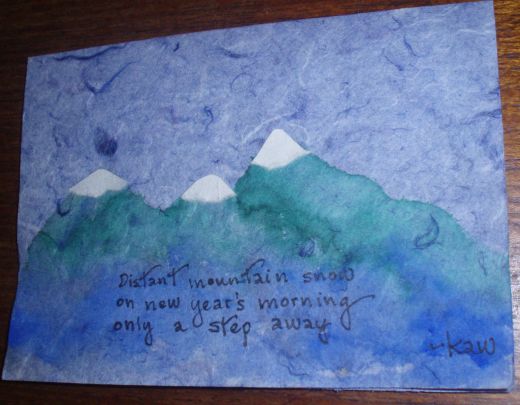 distant mountain snow
on new year's morning
only a step away




watercolor and ink, collage
handmade papers
by kath abela wilson
01/08/2008
Author's Note: Only the haiku, published in"Under the Banana Tree, haiku and tanka, The Leaugue of Laboring Poets, Sunner, 2008. This was #17 of 61 personal 2008 New Year Haiku greetings.
Posted on 01/08/2008
Copyright © 2018 Kathleen Wilson
Member Comments on this Poem
Posted by David Garner on 01/10/08 at 08:37 PM

my favorite colors here. what a wonderful celebration of hope and new beginnings. things far away are within reach...
Posted by Max Bouillet on 01/13/08 at 12:43 AM

A new beginning, fresh, pure so close and yet very far. The striving to attain what the mountain represents is the journey we should take. The attainment of the goal is immaterial. It is in the attempt that we gain what we seek...... thank you!
Posted by Agnes Eva on 01/16/08 at 04:22 AM

This one made me catch my breath with the holy grail haiku AHA in the third line. Superb. This one is going in my special handwritten notebook I've been keeping for 10 years of my favorite works ever by other writers... I don't know, it just struck a chord with me.