every window (haiku)


by Kathleen Wilson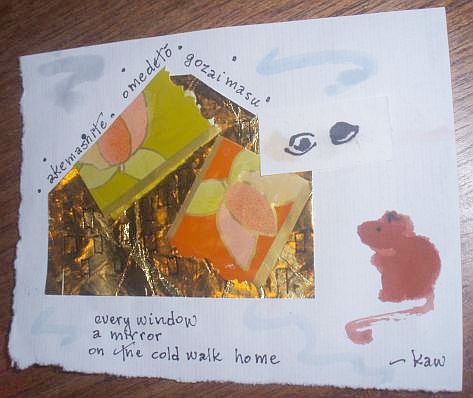 every window
a mirror
on the cold walk home


collage with foil and other papers, watercolor and ink
by Kath Abela Wilson
01/02/2008
Author's Note: Published in "above the tree line" Southern California Haiku Study Group 2008 Anthology (#14 of 60 personal haiku responses to other poets)
Posted on 01/03/2008
Copyright © 2018 Kathleen Wilson
Member Comments on this Poem
Posted by Don Matley on 01/03/08 at 04:55 PM

Very nice, precise, thru the ice, a poem I could see through despite the mirrors.
Posted by Agnes Eva on 01/07/08 at 04:22 PM

ooh, nice first one to click on. I love the collage art, and the haiku. what a great project!
Posted by David Garner on 01/10/08 at 08:38 PM

Oh, I love this! My favorite haiku of yours by far. Delicious!