I asked God how He answers prayers


by Nanette Bellman

I'm meeting God for lunch today.

And I'm not talking about going to Heaven.

He pulls up a chair, elbows off the table.

It doesn't matter how He looks.

It's now I know,

that there will never be "just one question".

I'm gunning for answers - for everyone.

I'm wasting no time.

"I don't get you sometimes. Okay...alot. I know the good

and the bad and I can distinguish what You do, but this

whole prayer thing...you've got me baffled."

A heavy, laughing breath escapes his mouth

And a corner smile comes on His face.

"What don't you get my child?"

"You know what we say before we way it. You know

what we think before we think it. And yet, we pray. We

pray and give thanks to You. We ask you for things...

but I just don't know if you here me sometimes..."

"Ahhh, the old, all my prayers are unanswered but."

I take a drink of water

because I'm going to need it.

"Well do I pray for stupid things? Do I ask you at the

wrong time?"

"I hear your every word."

"If you hear me then why don't you do something? Why

don't you answer my prayers?"

"I hear..."

I want to make sure He does here me.

Yes, I interrupted God.

"Why didn't you let me hit the lottery every time I asked?

You knew how much I could have used that money...

and Grandpa...when they called that morning. I prayed

to You. I cried to you...'Please let him live.' and he still

died. You still took him. Why didn't you...why...."

It's all I can take.

And He wipes the tears from my cheeks.

"As I was about to say...I hear you. I hear everything.

After all, I am God and I made you. I know you better

than you know yourself. Sometimes, some prayers do

go unanswered. It's better for you. You'll see that one

day. Just ask Garth Brooks. And some prayers, well,

some don't get answered right away. I answer them in

due time, when I feel you're ready. When the answers

aren't right in front of your face, it doesn't mean I don't

answer them."

"I don't expect you to give me all the answers. I just

don't understand...still. How come when I started to

slide down Highland Rd. the day after Thanksgiving,

I prayed. And said 'God, please let me make it home

safe. Please give me the courage and strength to

drive in this snow. Please keep me safe. Please God

please' and I made it to the express way but half way

down it, I lost control of my car. I hit the wall, then a

semi head on and went under the trailer and ended

up in the guardrail."

God grabbed both of my hands.

He looked me alive in the eyes.

"You still made it home..."

And He got up and left.

12/16/2007

Author's Note: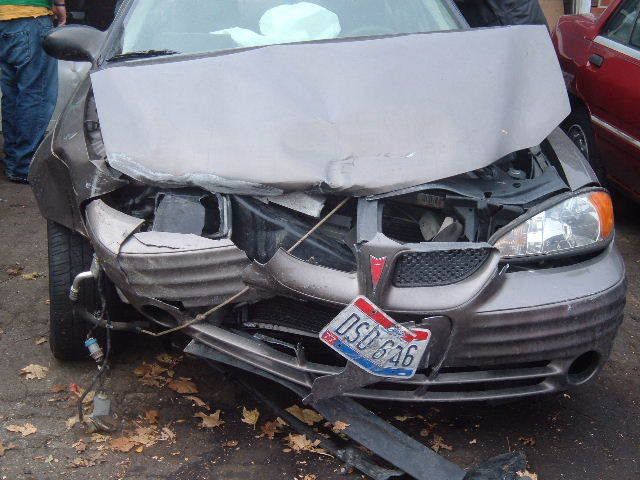 Posted on 12/16/2007
Copyright © 2020 Nanette Bellman
Member Comments on this Poem
Posted by Chris Sorrenti on 12/18/07 at 06:06 AM

A well written reminder of how God works in some mysterious and not so mysterious ways. The photo certainly adds creedence to the message. Well done. :o)
Posted by Alisa Js on 09/25/08 at 02:31 AM

Intense! Powerfully written.... gives the reader something to really think about.. aloha.. alisa ;-)
Posted by Meghan Helmich on 10/03/08 at 03:54 PM

an intense ending! i really like this, nanette.

just a quick mention about some spelling errors in this one. 'here' should be 'hear' in a couple of places - unless this is meant to be a poetic device... :D
Posted by Elizabeth Jill on 02/19/09 at 07:02 PM

This is flying into my faves faster than that semi. God, look what came: a brilliant poem. Sheesh, N!
Posted by Joan Serratelli on 03/04/09 at 04:28 PM

Very powerful write- suprise ending. I was once told that G-d does answer all of our prayers; sometimes, He just says "NO! Great write!