The New Neighbour


by Chris Sorrenti


We have a new neighbour
just moved in
without the aid of a moving van
who kinda bounces back and forth
between Wendy and Jim's shed next door to the right
and the home he's made for himself
beneath my back step
and when he pokes his head out
to check out the August sunshine
I wonder if it means only six more weeks of summer

A reclusive individual you might say
pretty well keeps to himself
or is it herself? it's hard to tell
with that thick mane of long brown hair
especially when he's got his back to us
as we often see him out on the lawn
doing his part
to keep the grass and weeds well trimmed

Doesn't play his music loud
nor ask to borrow my tools
in fact quickly disappears whenever I go outside
to light up the barbecue
and since he's moved in
the squirrels don't come around anymore
to eat Debbie's flowers in the yard left of us
the kind of neighbour I wouldn't mind sticking around
unless the time comes he does turn out to be a she
and we're overrun with groundhog days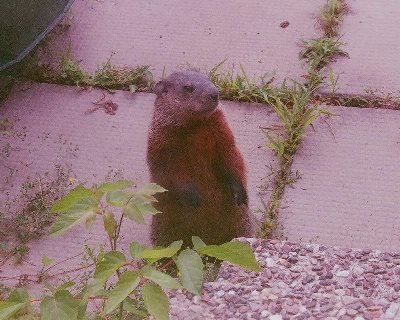 Poem and photo © 2005 by author

1,200 hits as of May 2020



08/01/2005
Author's Note: With thanks to Maureen Glaude for providing the style/tone as per her poem, The Perfect Man. Published in the chapbook Verse Afire, A Tri-Annual Publication of The Ontario Poetry Society, September to December 2007 Vol. 3 No. 3, I.B. Iskov Editor/Publisher, Toronto, Canada. I.S.S.N. 1715-0280.
Posted on 08/01/2005
Copyright © 2020 Chris Sorrenti
Member Comments on this Poem
Posted by Maureen Glaude on 08/01/05 at 09:02 PM

Hey, neat companion piece in tone. The perfect neighbor, this? I'm just waiting for the 'coons at the campsite (it's known for them, the one we're going to) - good work, Chris, fun and amusing.
Posted by Graeme Fielden on 08/02/05 at 02:09 PM

haha...a cool little ditty, Chris. Sounds like a cool neighbour :)
Posted by Ginette T Belle on 08/02/05 at 02:13 PM

quite clever...great tone...i like it a lot
Posted by Sarah Graves on 08/03/05 at 02:16 AM

I enjoyed reading this, it feels as if you're looking out your window writing all this down. You really bring the reader into your thoughts, as random as they are. Great read.
Posted by Carolyn Coville on 08/10/05 at 10:23 PM

of course i was smiling the whole time reading this, which then broke out into laughter at the end! but wouldnt a family of groundhogs be a cute sight to see ;)