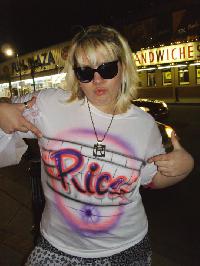 City: DeKalb
State: IL
Country: USA
Member Since: April 2003
Last Login: 10/06/2014

Homepage: http://designsonyoublog.blogspot.com

I'm extroverted, pro-social and spontaneous - you may have met me at "the good Denny's" or at your local karaoke bar. I'm a funny femme feminist, and an obvious fan of alliteration. I sing in a band, make art, and reinvent myself regularly through fashion and make-up. I'm loyal, intelligent, and open to change (be it my hair or my life), and I love to make others laugh. Last, but not least, I think it's important to tell you that I'd rather have a story to tell than a book to read. Fin. Nikki is a member of The Bell Jar.

The following icons will enable you to enter different areas of this poet's library. Click on the appropriate icon to enter the area of your choice.