Member Spotlight for the Month of September 2005 - Mary Ellen Smith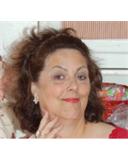 Mary Ellen Smith is a living doll. No, wait -- she makes dolls for a living. Either way, she's all about the whimsical, magical side of life, and her poetry reflects that.
"I don't like depressing or maudlin poetry," she said. "I like to keep things light."
With titles like There's an Elephant in the Room (about pretending at tea) and Gardenalot (about ladybugs pretending at tea), the wit and wisdom of Mary Ellen Smith comes forth in light and entertaining fashion. While she's at it, Mary Ellen figures she might as well tell a little tale.
"I like to weave a story into my rhyme," she says. (Yes, she realizes it's unfashionable to rhyme, but "I just can't help it," she says.)
Her compellingly rhythmic narratives range from the nonsensical (more antics at tea with a naughty cat) to the slightly bizarre (a hapless jester's antics land his head on a platter), and touch upon themes that are near and dear to her heart: God, nature, the garden, and especially lately, her growing brood of grandchildren (she has two beautiful granddaughters soon to be joined by a grandson in November). Most of Mary Ellen's latest works are about the newest additions to her growing family, lovingly tucked into a folder called Grandma's Heart.
"The most surprising thing about the grandkids is the love!" she laughs. "It's overwhelming; I think sometimes I love them more than my own kids ... but maybe that's because at the end of the day, I can give them back."
Mary Ellen finds inspiration in the most obscure places.
"One day, I was sitting in a Subway parking lot, waiting for my husband," she says. "I saw this weed sticking out of the pavement. It was your everyday, ugly weed, but it had a beautiful flower on top of it." The result was revenge of the wildflowers, scribbled on a napkin and never changed.
Other times, she seeks inspiration in the classic masters such as Henry Wadsworth Longfellow, Emily Dickinson, Robert Frost and Edgar Allan Poe. Even the town she lives in is named for a famous poet: John Greenleaf Whittier. "I love to read old poetry," Mary Ellen says. "When I read that, it inspires me to write ... it makes me want to get outside, go down to the ocean, see God's wonderful world." A lot of the fruits of such inspiration is found in her Inspired Poems folder. "I am not a skilled writer, nor do I pretend to be," she says. "I write because it's fun, because I can say something that is funny or uplifting, or has a little story to it."
Well, some must think she's skilled enough. She's sold Seedling to Measurement Inc., a company that works with state departments of public instruction to create various tests for schoolchildren. "They told me they wanted to use a poem on the test that would hold their interest," Mary Ellen said. The poem will soon appear on a North Carolina Department of Public Instruction third-grade test.
Another poem, Contemplate the Moon, was made into a song by her Christian musician uncle, Phil Keaggy, and included on his CD "Inseperable." Keaggy also put another of Mary Ellen's poems, Snowman, to music (click on the title to hear it online.)
And then there's the "publishing" she does with the original line of dolls she and her husband, Kip, create. Mary Ellen creates and sells little chapbooks of collected works alongside the dolls. She's even written some poems to go especially with a doll, which she puts on cardstock and cuts out freeform, then attaches it to her creation.
The following is a list of the highlights of Mary Ellen Smith's poetry:
The member spotlighted in this month's "Member Spotlight" is chosen by the pathetic.org Spotlight committee, which is made up of a small group of site patrons and administrators. Each month a member is selected for this privilege based upon contributions to pathetic.org and the quality of work.