Member Spotlight for the Month of January 2005 - Charles E Minshall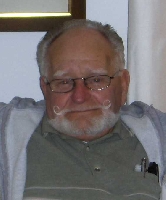 "I'm a simple man," said Charles Minshall when he was advised of his selection as Pathetic.org's January 2005 poet spotlight. "And you'll have a hard time writing about me," he insists. Well, as with many things, simplicity is a relative term and a characteristic that can change in the eye of the particular beholder.
Originally from Denver, Colorado, Charles moved to California at the age of four. He now resides in Dublin, approximately 45 miles inland from San Francisco. He lives there with his wife, whom he declares to be his harshest critic, and who is also often the subject of, and inspiration for, his poetry. "My wife reads everything I write and corrects the punctuation I am terrible at."
Typical of his unique perspective and sense of humor, seen throughout much of his writing, Charles shrugged off the question about his age with this retort: "I'm a young lad trapped in an old geezer's body." His response provides an enticing glimpse into the often wacky world that he presents for us in his many works.
Charles' "simple" life has included many varied past occupations, including Navy electrician, heavy duty truck mechanic, ex-business manager (for a tool manufacturing company that sold their products nation-wide), salesman (selling automotive accessories to new car dealers), welder, and professional photographer, working in a studio and free-lancing.
"I often worked two jobs at a time," says Charles. "My wife and I at one time manufactured home decorator items and wholesaled them at gift shops in California. We also sold at various craft shows. At one point we had a 1929AA Ford antique truck with a Cretors popcorn body mounted on it and we sold popcorn and various sundries at car shows and other events throughout Northern California. That unit is now in Japan, I believe at Disney over there. The popcorn truck had air-conditioning, a large generator for indoor and outdoor lights and for running various machines, as well as hot and cold running water. It was a sight to behold!" he beams.
Now retired, Charles continues to write and enjoys other interesting pastimes. "I facet gem stones with a facet machine when I have time. I also do small stone and metal sculpture. I belong to a gem and mineral society and try to get into the club's shop twice a week if I can. The shop has instructors that teach all phases of gem stone work. The instructors donate their time and there is no charge for the classes other than materials and membership dues."
Charles has been writing for about 20 years, and goes on to explain the inspiration which initially started him on that path: "One morning I was driving to work at sunrise and saw a beautiful old oak tree standing in a green field silhouetted by the gorgeous sunrise and wrote my first poem, a poem in my library titled 'Morning Light'." He continues, "That opened the flood gate and I have been writing since that time. My mother wrote poetry and short stories but I only have one poem she wrote, one she wrote when I left home for the Navy. It is posted in my library and is titled 'To My Son'. Unfortunately, my Dad threw out all of her other writings when she passed away."
When asked what inspires him now, you could almost see the sparkle in his eye when he quickly responds, "Putting a smile on someone's face." He then elaborates a bit further, when pressed, as to what he hopes to achieve with his writing: "I want to cause some smiles or make someone happier because of my writing. I enjoy writing poems that are humorous for children, young or old."
As far as the influence of other poets, Charles again answers with the glimpse of humor that there is to enjoy in his works: "Shel Silverstein, Dr. Seuss, even some poets here at Pathetic. I also have gotten a lot out of reading works that are not poetry. I have always been an avid reader. I even have been known to read the labels on store packaging!"
Claiming that "my poetry muse gives me enough trouble as it is," Charles has not yet pursued any other form of writing though he does admit to constantly editing his own poems. And though he has thought about publishing, his stated desire is that "I would like illustrations for my poetry before I would publish."
Ending his interview, again in the typical tongue-in-cheek style that he has often displayed in his writing, he offered this quip:
Very simple I am, There is no one Simpler than this man. My wife agrees That's guaranteed, She says "Simple Yes indeed."
I am sure that many have already discovered, and that others who read his work will come to agree with Charles in one respect – his poetry is simply pleasure!
The following is a list of the highlights of Charles E Minshall's poetry:
Author: David R Spellman
The member spotlighted in this month's "Member Spotlight" is chosen by the pathetic.org Spotlight committee, which is made up of a small group of site patrons and administrators. Each month a member is selected for this privilege based upon contributions to pathetic.org and the quality of work.