Motherhood & Nursery Rhymes


by Tony Whitaker

So you think you are ready to walk the line
Of motherhood and nursery rhymes.
Your baby grows but won't remember
How carefully you eased those first few whimpers.
Your nerves will break and patience shatter,
As your darling child begins to chatter.
But a payment of love is priceless indeed
Like the times they hide behind mom's knees.
Then one day as you clean their room
A letter of love that rings the doom
This child no more, has become a teen
And mom is no longer the reigning queen.
One day your child will walk to the altar
Your body shake and mind will falter.
Your child walks into a new life today
Your old life now seems to fade away.
But then one day as you catch the laugher
Of a little one who loves to chatter
And you cry as loving eyes ask true
"Grandma?"
"Yes child?"
"I love you!"


12/16/2006

Author's Note: I penned this one in 1999 for my peer, Stephanie, who was having her first child. This is one I actually asked for advice from others in the office and they said give it to her as is. I actually got a hug from one mother. So I did. She loved it.

Posted on 12/16/2006
Copyright © 2021 Tony Whitaker

Member Comments on this Poem
Posted by A. Paige White on 12/17/06 at 02:50 AM

I love this! Now I know what all the hooplah about having grandchildren is about. There's not nearly enough said about what they add to your life. Never could be enough said.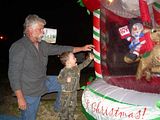 Posted by Angela Nuzzo on 12/17/06 at 10:03 AM

Very nice, Tony. I really like the ending. :)
Posted by Alisa Js on 12/18/06 at 10:42 PM

tooooooooooooooooooooooo sweet and adorable..;-)