The Journal of Kathleen Wilson

Poet's Cafe interview, KPFK
05/10/2010 03:47 p.m.
Some of you will enjoy this Interview with me on Poet's Cafe
It happened in January, this is the archive/announcement page, where you can click and listen, a half hour with Kathabela. You will hear my husband Rick playing flutes at beginning and end of the program.

Comments (0)


Poets Salon, Caltech Poetry Club, Poets on Site
10/07/2009 06:54 p.m.
Dear Poets, artists friends, Please look here is you wonder where I am sometimes! I love this site, am so grateful to have it for writing and sharing. Thank you for your wonderful comments and encouragement!
http://www.oldflutes.com/poetsonsite"

Tonight we will hold our special traditional Poets Salon, Bring 20
copies of your poem on any topic for workshop. RSVP. This takes
place at our home, (439 S Caltalina Ave. # 306, Pasadena, CA 91106,
near Caltech) .I am making my mom's Maltese
Minestra for poets tonight, a vegetarian version. We will alternate in
our
readings, between poems on the artwork of Susan Dobay, and poems on
other topics. So bring all poems you have written on her art. The
artist will be here, and she is bringing one more painting to add to
our Living Room Gallery show, since poets enjoyed this work so much in
her gallery last Sunday. I have added this to the Living Room Gallery
site, and I am attaching it here. It is called Vivian. Be sure to
email your poems to be added to the book.

http://picasaweb.google.com/poetsonsite/SusanDobayArtInTheLivingRoomGallery#

Our workshop, with commentary will continue at Caltech Poetry Club on
Friday at the Red Door, on the Caltech Campus. Last week's photo is
attached below. Each poet read a poem, for commentary among the group,
followed by an short interlude of one poem translation of Pablo
Neruda by William O'Daly, from "Still Another Day" in Spanish and
English.

Poet Tom Bilicke read a wonderful short piece of poetic short fiction
he
had written a few days before called "Lady". Michael and Ritchie both
read their poems from our recent Poets on Site book, on Manzanar and
the surrounding landscapes, inspired by a painting by John Barnard's,
"View from Manzanar". Ines read her two haiku also published in the
same book, inspired by the painting by Chiz de Queiroz
"And the Soul Shall Dance". Sharon read a very short poem,
well appreciated, called "On Encouragement".
Noele, a senior in electrical engineering at Caltech
read her poem "I found Virginia Woolf" a wonderful sighting of
Virginia Woolf on a train during her travels during summer. Al read
his moving tanka "winter has arrived". Kathabela workshopped her poem
"counting steps". Almost every copy of our book had a different
version since I was editing while printing! I think I have it right
now, thank you!

Here is one poem we read which raised the question... who, what is
Boroa? Maybe this was before Ritchie got these because he would have
used his phone to look this up quickly
:

Clear Boroa,
crystalline apple
and element
of fertility, I follow
your song that rests
in the running river, in the passage
of shadows on silver
that flow in the cool.

(Boroa, is a town in Araucanía, Chile on the shores of Cautín River.)

After re reading this, it reminded me so much of this poem I wrote
in Santa Fe, when we lived there for a year, "Chimayo Moon".
http://www.pathetic.org/poem/1199469788
Chimayo was also a town on a river, the farmers brought produce
to the Santa Fe Farmer's Market.

Look forward to seeing you tonight (rsvp) and also Friday at
Caltech Poetry. Write for directions, location. Look for Kathabela's
flowery hat at Caltech Poetry to locate the group Table.

smiles from Kathabela and Rick Wilson
your hosts for the Poets Salon
Caltech Poetry and Arts Club and
Poets on Site
http://www.oldflutes.com/poetsonsite"

Comments (0)
I added the art to the New Year haiku now
01/01/2009 07:51 a.m.
If you would like to see the accompanying art to the first five new year haiku, you can see it in my library now... I will continue now, to post the art along with the haiku.

Comments (0)
we're in Banff
11/13/2008 07:09 a.m.
I've been writing this week from Banff
See Many Photos Drawings and stories

Comments (2)
Poets on Site
04/29/2008 04:28 p.m.
I've been a little quiet here and this is why:

Last Thursday our group "Poets on Site" -I organized this in Pasadena, gave a beautiful celebration of the Earth at Ten Thousand Villages, a fair-trade shop near us. I made a book and we followed it like a script, with musical accompaniment on kulintang, (Phillipine gongs) and fujara (Slovakian shepherd's flute) with a dvd in the background with pictures of our hikes and also hikes in the 1900's in the same mountains. A poet who does fiber art hung her "Lady of the Forest" work as a backdrop.

This Sunday: The Poetry of Rengetsu, Lotus Moon, is inscribed on scrolls and ceramics she made. She was a 19th century Buddhist nun. The "Poets on Site" have been writing poetry in response to the poems and artwork. Many of mine for this event are tanka form (5 lines, more lyrical, emotional)- haiku followed from that, if I understand right. This has immersed me in making the chapbooks- (like a script) the poets answering her words. We are giving a performance, tourguide style poetic walk through this exhibit at the Pacific Asia Museum on Sunday in Pasadena at 2 PM.

We have another tourguide performance in Sunset beach on May 10, poems written on oil paintings in a gallery there, and then we leave May 12 for China- for 3 weeks.


I am currently Excited

Comments (0)
Ten Thousand Villages tonight
04/24/2008 04:19 p.m.
Here is what I've been doing! Our chapbook is finished, it's the most colorful
one yet, I think you will love it, it includes art
and photographs, as well as wonderful poetry.

April 24 Thursday dinner at our home will begin at 5:30 PM.
A short pre-celebration
poetry WORKSHOP and preparation
for the evenings performance from 5:45 to 6:45.
We will walk over (one block)
to Ten Thousand Villages
496 S Lake Ave, Pasadena, CA 91101
(Our place is close parking-but you can meet us there if you come late.
Friends are welcome, of course,)
to set up for our
poetry and musical performance.

We are celebrating the wild natural beauty of our surrounding area.
Especially featured are all the Poets on Site at Fish Canyon Falls:
Sharon Hawley, Deborah P Kolodji, Kendall Evans, Just Kibbe,
and Kath Abela Wilson; joined by Mira Mataric,
Ruth Nolan, Cindy Rinne, Maja Trochimczyk,
Antonio Sorcini, and Tom Bilike.

Unusual once in a lifetime musical accompaniment: Asuncion Ojeda on
Philippine Kulintang and Rick Wilson on Fujara. We also
made a dvd which will be shown, with scenes from our poetic
hikes in the wilds, as well as early 20th centry hikers on the same sites!
Cindy Rinne will bring one of her artworks, on a forest theme.

Whether you've contributed a
poem or not, this will be a very wonderful musical and poetic experience,
ina beautiful environment, surrounded by objects made in villages
by individual craftspeople all over the world..

Contributing poets will receive two copies
of the book, one tonight, and one next week.
Others consider a $5 donation for a copy.



Comments (0)
Southland Poets of the FANtastic
04/17/2008 07:38 a.m.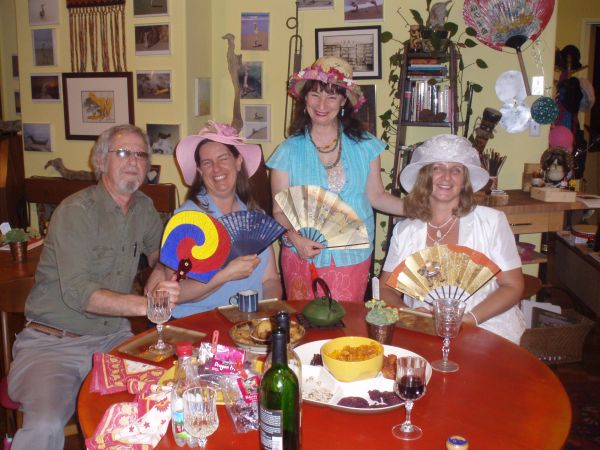 Comments (0)
Poetry Events I'm corrdinating in Pasadena
04/16/2008 05:08 p.m.
This is a calendar of some of our poetry, musical,
and artistic events and
projects between now and May 10.
The first 3 numbered items are important
current projects. I am working on these
as poetic "scripts" for our performances.
This gives you an overview, with special treats
included.

*** a new project!
The Pacific Asia Museum has invited Poets on Site
to write poems on any objects in their permanent collection
to be recorded in January for audio poetry tours of the museum.
Email any poems you write, as an ongoing poetic tour,
(most rooms are permanent
exhibits, ask at the desk which are the temporary rooms.)
Poets on Site will be admitted free to the museum to do this
long-term project.

We are currently writing
for three scheduled performances/chapbooks:

1. important-please send poems now for :
Thursday, April 24, 2008
Poets on Site on Earth: 7:30 PM
A Celebration at Ten Thousand Villages
496 South Lake Avenue
Pasadena, CA 91101
featuring poets on site on earth
and music
- on the hiking trail
at Fish Canyon Falls, Eaton Canyon, and other
natural sites in the local area I am making a book
to accompany this performance.

poems on waterfalls, mountains, canyons
preferably in this area.
We will walk over to the location, a block from
our home, during that week's Thursday evening poetry salon.

2. Sunday, May 4, 2008
Poets on Site on "Lotus Moon": 2 PM
Pacific Asia Museum (Japanese Gallery)
46 North Los Robles Avenue
Pasadena, California 91101
http://www.pacificasiamuseum.org/
A poetic response to the poetry and art of Rengetsu,
(Lotus Moon), 19th century Buddhist nun, renowned
for her beautiful calligraphy, art, ceramics and poetry.
This will be a tourguide style walk through the exhibit.
Shinobue (Japanese flute) music by Rick Wilson
I am beginning to compile this
now. Poems on objects and general responses to be used as preludes, interludes, etc.
See our listing in the museum calendar, May 4:
http://www.pacificasiamuseum.org/calendar/calendar-next.htm
Please continue to visit the museum
Hours: Wed - Sun: 10:00am-6:00pm
At the front desk, say you are a Poet on Site
writing for our performance, for free admission to
the Japanese gallery.

3. Saturday, May 10, 2008 (time: 1:30 PM
start time for our performance, reception is 12 to 3 PM)
Poets on Site at The Anderson Gallery
(Debbie, Just and Kath wrote at the gallery again last week, and we
visited the nearby beautiful Bolsa Chica bird refuge-)
see us at the bird refuge, and the gallery after:
http://www.oldflutes.com/Kathy&Rick/birds.htm

Poems on the Oil Paintings of Milford Zornes
1618 Pacific Coast Highway
Sunset Beach, CA 90742
This will be a very special event, hosted by Bill Anderson, artist,
collector and longtime friend of Milford Zornes. He is a great
admirer of our poetry, and will be inviting special guests.
Please submit poems as early as possible,
ongoing into the end of April. Please continue
to visit the Anderson Gallery (The exhibit
is stunning)
Hours: Fridays and Saturdays 1 to 9 p.m., Sundays 1 to 7 p.m

Note: We have two other chapbooks in progress.
1. Riverside Museum watercolors (exhibit closed,
but most of the paintings are in the recent
book "Milford Zornes". (The Riverside Museum is
very excited about our work, and looks
forward to more projects with us.)
The notice was too short for
a performance on site, but we will do this at a later date,
with slides, and a chapbook.

2. Milford Zornes in "Black and White"
Museum of History and Art, Ontario ends April 13
225 South Euclid Ave
Ontario, CA 91762
(admission free-donation)
unusual exhibit of lithographs,
linocuts, ink, charcoal, printmaking, drawings.
Hours Wed-Sun 12 - 4 PM
chapbook in progress, a performance
with slides and chapbook at a later date.
Submit poems at any time, work on compiling
the book is in progress. I do have some photos
of the work.


Special Events:

1.Saturday, April 19, 2008, 2 PM
Pacific Asia Museum
Mariko Kitakubo Tanka Performance/Reading
In a rare bilingual performance, Mariko Kitakubo, a leading Japanese poet
and performance artist, will present her tanka (Japan's oldest and most
popular poetry form) accompanied by Linda Galloway reading the English
translation. Program co-sponsored by the Southern California Haiku Study
Group. Japanese flute music by Rick Wilson.
This will be followed by a reception in the courtyard, continuing
with a reception at our home (4-5:30 PM approx)

2. also
Saturday April 19 at 2 pm there is the
sixth annual Poetry & Cookies celebration on
at the Altadena Library
600 East Mariposa St.
Altadena, CA 91001
Pauli Dutton, organizing
(I am sorry not to be able to attend this because of the above event.
If you go to this, please join us at the reception after.

3.Tuesday, April 22nd
from 6:30-8:30 PM
Festival of Poetry Pasadena Central Library,
D. W. Auditorium (285 East Walnut Street),
Music, Open microphone.
hosted my Mira Mataric

April 12 to May 10
Art Sustaining Nature
(art in natural sites includes work by
our friend Nancy Keyes,
poet, yoga teacher artist) at the Audubon Center
at Debs Park Wed-Sat 9 to 5 pm
4700 North Griffin Ave
Los Angeles, CA 90031

Fiber-Art-poetry Exhibit by our friend Poet Cindy Rinne
http://www.pe.com/lifestyles/stories/PE_Fea_Daily_D_spotlight20.2fd65d9.html
through May 3
Wave Lengths Salon/Gallery, 19 E. Citrus Ave., Suite 205, Redlands
(I went to this yesterday, and it is wonderful!) Cindy will be participating
in
our Earth Day poetic celebration on April 24. We met her at Ruth Nolan's
poetry workshop at the Riverside Museum last month.

Regular Events:

Every Thursday 6 PM to 9 PM
Poets Salon dinner, workshop and entertainment
at our home
805 886 9384 for details

Tuesdays 3:30 - 4:30 PM
Fridays 12-1PM
Caltech Poetry Club
Red Door Cafe, Caltech campus

Thanks, all of you, for
your beautiful poetry, art, music and joyful
times together,
We leave for China for 3 weeks, May 12,
so we will enjoy all of our projects together
before we leave! The Thursday workshops
will continue at our home while we are gone.



Comments (0)
Pirate Pig Press (our ArtTalk poetry production)
03/16/2008 07:30 p.m.


To see the first photos of what we did yesterday-- organized by Pirate King Just Kibbe--a member here --for ArtTalk a performance day or spoken word--see
http://www.oldflutes.com/Kathy&Rick/piratepig1.htm
(3 poets including me, and my husband playing fujara, a five foot slovakian shepherd's flute. I read from my SHE POEMS)
and

http://www.oldflutes.com/Kathy&Rick/piratepig2.htm
(I play percussion in this one, and Rick still playing fujara

I am currently Excited

Comments (0)
Poets on Site
02/21/2008 04:53 p.m.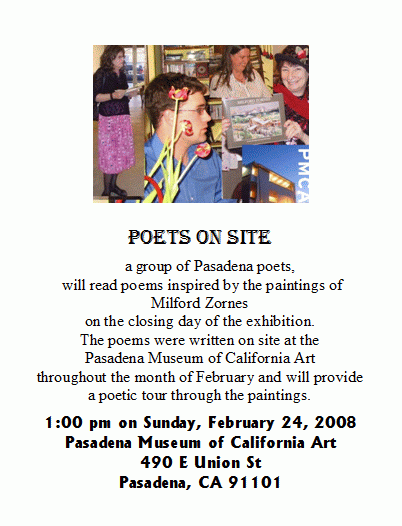 Comments (0)
Next 10 Entries

Return to the Library of Kathleen Wilson