The Journal of Maureen Glaude

Summer's End
08/28/2006 07:06 p.m.

Though sheís not on this site, (used to be on the former site I was on)
my sister Marilyn does enjoy picking up her pen to catch a special moment or two.

She is one of my bird-feeding mentors and a lover of nature like me. She created these haiku over the past few days and said I could share them.


stems start to weaken
at the onset of fall
flowers strive to flourish

~ ~ ~

hummingbirds flutter about
enjoying late summerís nectar
but soon theyíll be gone

Marilyn Labrosse
August 26, 2006
I am currently Crafty
I am listening to trucks at work

Comments (1)


The Graduate
08/06/2006 08:21 p.m.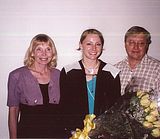 ††

Our daughter Valerie Crystal with her parents, myself and Ernie, just after she received her Honours B.A. in Classical Studies, University of Ottawa, this past June at our National Arts Centre. If a mom can be tolerated bragging, she achieved her results Summa cum laude. We would have been proud of her without the extra honour, but I know how very hard she worked for years for this and think she deserves a little bragging from us, though she's not into that type of parental attention really. I learned a great deal through the process of her studies, as she particularly concentrated on mythology and literary classical stories often, plus the languages of Ancient Greek and Latin. Her cousin Lisa received her B.A. in Religious Studies the same evening, at the same event, and attended the same university. They're very close, more like sisters or best friends, so it was a very fun evening. We celebrated a few weeks later at Val's brother Eric's, at a barbecue he and his wife Julie hosted for the two gals. We put two female grad models on their cake.
I am currently Crafty

Comments (2)
Tadpole and Tanka Notes
08/01/2006 06:57 p.m.
As I was waiting for the voting to be done for our latest Tadpole Kukai contest on here, in which I ended up tying for Second place, (heat lightning theme) I decided not to post a recent tanka. It seemed similar in story, style, and set-up, and I didn't want voters to recognize me in the anonymous contest.

So the other one I can post now is called Blood Tanka.

Congratulations to my Tadpole peers and thanks for the excellent theme, Agnes. I hope everyone posts (or sends for publication) their entries, Agnes really liked them all and recommends we try them in other organs.
I am currently Content
I am listening to my sister on the phone

Comments (0)
Path Guides
07/27/2006 01:05 p.m.

I know at various times in my life, Iíve missed the mark on these qualities, but they are a valuable
series to aspire to, as the First Nations philosophy proposes. They are the legend to the map of finding and keeping to the proper path in life.

I learned some other creatures for this from a documentary I enjoyed recently, about the Great Lakes Ojibway peoples, and have added those in here to the list I found (in other research)called the Seven Teachings of Inspiration that lead us to maintain sacredness. (credit to The Turtle Lodge and Dave Courchene Jr.)

I hope to create a polished poem on the theme eventually, but for now itís really just my thoughts.
I also hope that the First Nations people donít mind me drawing from their beautiful philosophy.

If anyone on our site (Anihe/Joseph?)wants to add more insight on this, I'd love to hear it.

The Path

From the Deer, we learn
to be gentle
the Bear, to be brave.
The Turtle teaches truthfulness
the Beaver, to be wise.

Loveís the domain of the Eagle
with first love being
for the Great Spirit above.
We thank the Buffalo
for the lesson of respect
for all.

We must practise humility,
as demonstrated by the Wolf.

Stone symbolizes our need to be
strong. Examine the
timeless resilience of the rock.

Honesty thrives in the example of the
Sasquatch. The more we live this,
the closer to the Great Spirit of our origin
and the greater in size we become.

Let us look to these sacred friends
who show us the key
to keeping ourselves on
the right path. - Maureen Glaude
I am currently Blessed
I am listening to car motors humming past

Comments (1)
Some of the Best of Times, and some of the Worst
05/11/2006 08:14 p.m.

A cheering and exciting afternoon reunion of our kado ottawa group at the Japanese Embassy last Saturday lifted some of my recent down feelings. Iím struggling with gruesome side effects from a bad cold, and thought Iíd have to miss the meeting but was very determined to go and not contagious by now. On top of that, some sad experiences. For a few days my daughter and I shared sick bay here, soon after mourning bay for our catís loss. But the Embassy meeting was terrific, as they are every spring. Kado ottawa, our chapter of Haiku Canada, launched our first-ever chapbook (up til now weíve produced lovely broadsheets over the five years weíve been working together, the core group, with some turn-over of course since it originated. And the loss of our co-leader Marianne Bluger, who I believe was instigator of the concept of having this group, along with Terry Ann Carter who we fortunately still have mentoring, guiding, giving to us in so many ways that make us want to give back, either in our work, in Japanese forms of poetry, or white elephant sales, publicity, etc.

The beauty of it all is that as we share each otherís progress with these demanding but meditative, exquisite (to me) and calming forms, we have developed such respect, closeness, warmth - for each other. The people are among the gentlest, kindest, highest-minded Iíve known, anywhere in my life, and not at all condescending or pretentious, even though many of the more experienced have high accolades internationally.

The literary week continued to be a happy one, with a launch to attend of Terry Annís for her own new book of poems, Transplanted, inspired by her husbandís kidney transplant from his sister many years ago, but the poems deal with many different spin-off ideas from the term.

I learned yesterday that my submission of a haibun (my first ever, written last summer) to Haiku Canada is accepted and will appear in the future with them.. Iím just starting to submit to this incredible organization more, and also have a haiku accepted for the membersí upcoming anthology. Iím very excited about these two developments.

Gusts literary journal of tanka also published another of my tanka recently, and I received my copy of the magazine, plus my copies of Bywords Quarterly Journal by University of Ottawa English Department, with two of my shorter poems appearing there. So itís been a productive and satisfying period in the creativity department of my life. I really enjoy the visual aspects of the covers of these issues, which feature fantastic nature scenes. All of the minimalist Japanese form poetry and the world it has welcomed me into so graciously seem to offer me peace, relaxation, love of life, and of course, high challenges mentally, and are especially treasured at down times in my other experiences.

There are several projects on-going, plus my easel is waiting for my new painting to begin tonight.
It will be a landscape scene again, this time of Bon Echo shoreline with a small boat in the foreground. My others were of a waterfall scene with stone steps, and trees, and the other was actually a waterfall setting too.

Maybe Iím thinking of the reported cataracts in my eyes, that havenít been acting up again lately but could suddenly present me with drastic clouding and need attention fast.

I thought up a haiku draft on this once.

cataracts diagnosed
in the writerís eyes
already the water falls

Family-wise, our son and his wife have settled into their first brand-new home of their own. That was a busy weekend, and the same one in which we had to put our beloved Penny Lane down.
I was torn in two different directions at once that day, helping at their place and rushing home to our daughter and the cat suddenly. It was almost biblical. Before I left Penny in the hands of her sad fate, I made the sign of the cross on her and myself and told her ďGod Bless,Ē even though Iím not Catholic. It was all I could utter of goodbye but Iím sure weíll meet again in a more peaceable kingdom, all of us, one day. There are often times in my life when I fall back on Catholic ritual, having learned it when raising the children in the Catholic church. When I came by surprise upon a grotto in a neighbourhood I'm not familiar with, a bit of a rough, poorer section of town, I found it so beautiful and I lit a candle there, at the outdoor sanctuary, for my mom-in-law fighting cancer. She is Catholic, and would appreciate it, I know. I enjoy that positive and beautiful offering, as I do many from the faith. But I also enjoy my own and don't find the differences so huge (which is the theme of an upcoming poem also).

Iím also drafting a short poem that may become tanka or haiku, about our sonís and his wifeís move. When they were trying for the purchase on the house, he told me on the phone about the little maple in the backyard, and with a few goosebumps, I said ďyouíre going to get it, there was a little twig of a silver maple in our yard when we bought our place, when you were in my tummy.Ē


baby maple
in the yard of his first house
like the one here
when our son was born

Other good news is the success of our daughter in her studies, graduating with her first degree in Classical Studies, with top marks, this June and being offered a scholarship for her Master's. And my sister Marilyn's much happier lately, particularly with the acquisition of her devoted and lovely dog, Digger, a mixed Golden Retriever and German Shepherd. They have oodles of fun playing ball, etc, together. My brother Don and my mom-in-law are improving from their ailments, steadily though with hard work and patience. And our prayers of course. Dave, my older brother, and his wife took a well-deserved and long-awaited trip to Belgium to stay with friends, and toured much of Europe as well. So life gives, life takes away...as always...it's the shocks I don't need, but I guess we can't prevent them.
I am currently Creative

Comments (1)
Never Assume They Know
01/22/2006 12:11 a.m.
There's nothing new about the fact that often we do not show as overtly as we might think we do, how deeply we feel about someone's struggles or accomplishments, or even just how we feel about them. Even poets and writers sometimes miss out on being understood or heard as saying the things that need to be acknowledged, and received, by their loved ones.

Sometimes, for example, we think that physical effort, hours of our time, miles driving, etc. allocated to helping out, demonstrate the extents of our love and support to ample degree without us announcing our praise and pride in the person we're helping, throughout an ordeal. Although the realization at first stung and hurt me, the interpretation of a lacking, (and I did in fact recall proclaiming my pride in the person), after I thought it over for a short while I knew that since there was a perceived omission, the only thing I could do to fix this was to make my pride in her overt, in writing.

This poem resulted from the recent life lesson for me in that regard.

Since then, I have made the point, even today, of telling another loved one we've been helping, as she endures a courage-testing crisis, that we're very proud of her. She seemed to perk up and really be thrilled to hear this, and so it's a lesson well-learned, that these types of statements can never be said too often or taken for granted too easily, as understood.

My family personal poem here, for my sister, really spoke to her and she in turn is proud of it, and said she'd like me to share it. I think it's probably more suited to Journals for now, as I'm sure it's not yet a poem in the public sense. But because it may be a universal theme, I decided to post it here.

I put the text on some lovely creamy roses background printer paper before mailing it to her last week. After it arrived at her home and she'd read it, she told me she cried and plans to keep it forever.

If
for Marilyn

If there were ever any doubt...
of my admiration
for your resilience
facing personal trials and surgeries
let this page be a record
of some humble measure
of my praise.

If there were ever any doubt...
of my awe for your courage
when enduring injustices, bad fortune
physical duress, transformations
and loneliness through days and nights
of solitude far too excessive and untimely ó
for one person,
let these words portray the resounding echo
Iíve always felt emerging from me
for your pain
and not only from me
but from all the rest of us.

I hope you see us when we reach out
to serve as leaning posts to you,
just as youíve always done for us.

I hope you hear us when we protest
the unfairness of your losses
but also when we echo your spirit
of getting on...rising above...knowing
you and we wonít easily
find answers to the whys...

I trust you also hear us when we rejoice
in your new blessings as they come.

Often itís the laughter from your
incredible sense of humour
and the determination of belief
we hear in you, that reinforces us
to march along at your side;
lifts us all back up together
for together is the only way
survival works, or at least,
the warmest and most worthwhile, isnít it?

Sometimes it might be shared tears, or
expressions of shock, that draws us to your side,
but never can any of us rise in grace
to give unconditionally to one another
in such stressful years as these,
without the faith, spirituality, love and
hope of our mutual foundation.

After all your tests and grief
dealt with right before our eyes,
if somehow there were ever any question
that I, your devoted sister, and your entire family
commend and congratulate you Ė
as you grow through it all, leaving us inspired
by your strength and wisdom,
your constant will to try again,
cooperating with all your doctorís demands,
then now we shout it out with
our merely human voices,

and we promise our devoted support
to you, unconditionally and forever

- All our love, Maureen and family

I am currently Creative

Comments (0)
Clocks and Changes
10/30/2005 04:40 p.m.
Hey, no fair, guess who gets to delay time an hour on their birthday, here in Canada at least, as we set back the clocks at 2 am this morning? Our Chris Sorrenti. Many happy returns of the day, Chris.

Last night I was Zorro, or Zorrina perhaps you might say, at a friend's Hallowe'en Party and we had a wonderful time at her house, though I'm paying for it this morning. It wasn't the couple of glasses of wine, I'm sure, but perhaps a few rich dips, I don't know, but I was up ill in the night and now am just headachy. But I didn't have enough to have a hang-over, I'm past those days in life, or nights, should we say? I hope it's not the flu.

So I'm lying low a little, though I have some yard work to do, flowers to remove from the pots, sadly as their season's finished. And have just learned our mentor and wonderful example in poetry, particularly haiku and tanka but many other forms, has passed away of her cancer this morning, Marianne Bluger, of Ottawa, so another exquisite flower (if not the most I've ever known) has ended a season. But the beauty will never be forgotten, but bloom on in those she inspired and affected all these years and in her many causes she was devoted to, for the world.
Having just said goodbye to my sister's mom-in-law, another dear lady, on Friday at her funeral for her cancer passing, it seems it never stops.

I think I'll cuddle up on the sofa and watch the old movie I taped last night - The Bad Seed, from l956, as it's one I haven't seen in many years but found very powerful when I was young and never forgot it.

But it's a warmer, sunnier day and perfect for a birthday -so enjoy, Chris.



Comments (1)
Looking at Nowlan
10/27/2005 05:02 p.m.

He Attempts to Love His Neighbours

by Alden Nowlan

My neighbours do not wish to be loved.
They have made it clear that they prefer to
go peacefully
about their business and want me to do the same.
This ought not to surprise me as it does;
I ought to know by now that most people have a
hundred things
they would rather do than have me love them.

There is television, for instance; the truth
is that almost everybody,
given the choice between being loved and
watching TV,
would choose the latter. Love interrupts
dinner,
interferes with mowing the lawn, washing
the car,
or walking the dog. Love is a telephone
ringing or a doorbell
waking you moments after youíve finally
succeeded in getting to sleep.

So we must be careful, those of us who were
born with
the wrong number of fingers or the gift
of loving; we must do our best to behave
like normal members of society and not make
nuisances
of ourselves; otherwise it could go hard
with us.
It is better to bite back your tears,
swallow your laughter,
and learn to fake the mildly self-deprecating
titter
favoured by the bourgeoisie
than to be left entirely alone, as you will be,
if your disconformity embarrasses
your neighbours; I wish I didnít keep forgetting
that.
- Alden Nowlan((1933-1983)

in Selected Poems, Anansi Press,
(edited with an introduction by
Patrick Lane and Lorna Crozier)1966

As weíre examining and trying to emulate (Canadian Poet, heaven forbid he's not known) Alden Nowlanís poetry in one of my classes, I discovered this one and it truly speaks to me probably the most of any of them. So I thought Iíd post it on here, for others to enjoy.

Of course now there are more elements we could add, like the internet and computer life, and cell phones. The technology may have intensified, but the message is clearly still valid.

These are hectic times again for me, but I'm still plugging away hard at writing, Italian lessons, (even watching evening soaps sometimes or listening to CHIN FM, multi-cultural station for my practice of Italian), and helping with extended (I hate that word, did someone stretch and remove our first loved ones ever, from us?) family health care, but landing into the welcome solace of the world of words and sharing with fellow poets and friends whenever possible. And music, blessed music, and church, to keep my feet on the ground and heart brave. Mind not insane! Maybe some fun this weekend, relaxing for Hallowe'en, if at all feasible. Though as I mentioned to Chris today, graveyard lawn spreads and bony skeleton costumes have no appeal to me, now, (nor ever were part of my favourite aspects of Hallowe'en). Real life has been dark and ugly enough at times lately. Humour will keep me going. And love. As Nowlan points out, sometimes a bittersweet leaning not addressed well or enough by others. Or the human need for, prioritized, recognized or understood well enough.
I am currently Crafty

Comments (1)
Going Off-line a little while
10/07/2005 04:36 p.m.
Just letting folks know I'll be off-line for two weeks as of tomorrow sometime. Oh for a lap top! But will check back when I move back home.

It's been very hectic lately, but I'm taking a little breather this aft, have packed for my sister's and thought out all the things to remember for there and for my work waiting at home. And the family here etc.

I'm sure after that stay in the country, helping with the horse, cats, woodstove, cooking, etc. (we'll probably do a turkey Sun.)_as she recovers from back surgery, I'll have a new wealth of experiences from which to write. And I found a great radio station for multicultural music and talk, today so I'll practice Italian there.

Ciao for now. PS I had a poem accepted for our university English Department's Quarterly and website, Bywords, which will probably be posted on-line sometime soon, as it's for October's issue. It's the poem called "After".
I am listening to Italian on the Radio

Comments (2)
From a Tough Time
10/01/2005 07:40 p.m.
This was taken last Feb. at Marilyn's, my sister's, soon after her hubby, Jack, passed away. I don't recall who took the photo, but imagine it was my sister-in-law Deb.Obviously we were (myself, my husband Ernie and Mare and Brewster) all sticking together through hard times and continue to do so.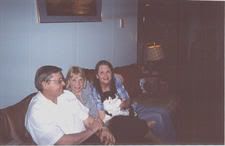 I am currently Cheerful

Comments (0)
Next 10 Entries

Return to the Library of Maureen Glaude