Of Past and Present Sins


by Chris Sorrenti


The silence is deafening...

I post poem after poem
on my favourite Internet site
and although many read
most choose to stay away
in their rating...commentaries
no communication of any kind

They say
"Despite outward appearances,
he is not like us,
and we are not him."

Perhaps it's the fact
due to fate and circumstances
within and without my control
I wear the mark of the beast
but if they looked close enough
would also see
that I bear the mark of a dragonslayer
so have no reason to fear
this sheep in wolf's clothing
archangel in training
who draws strength
and wisdom from
the book of Revelation:

"Men worshiped the dragon
because he had given authority to the beast,
and they also worshiped the beast and asked,
Who is like the beast?
Who can make war against him?"

Kinda reminds me of something I wrote
years ago
perhaps in clairvoyance?
or a fit of madness???

"There's a storm a comin'
like you've never seen,
better learn to fly high child,
better learn to swim deep."

© 2012

1,030 hits as of September 2020



09/24/2012

Author's Note: It's fun...sometimes...to be melodramatic. :)

Posted on 09/24/2012
Copyright © 2021 Chris Sorrenti

Member Comments on this Poem
Posted by Jody Pratt on 09/24/12 at 11:59 PM

So melodramatic it hurts haha. I like this, and that's why I'm commenting. Not because the poem makes me feel obligated... because I WANT too.

Posted by Kristina Woodhill on 09/25/12 at 04:01 AM

I love how this segues into a biblical/mythological bent. Nothing demands more attention than the appearance of a fuming dragon, yes? :) Strength of words is sometimes admired, sometimes feared, sometimes creates a silence of contemplation, but never ignored. Those last four lines make me want to hear "the rest of the song". Thanks, Chris.

Posted by Joan Serratelli on 09/25/12 at 12:00 PM

Chris- this is just so good. I think you echo a lot of our sentiments about this site- Thanks!

Posted by George Hoerner on 09/25/12 at 12:42 PM

I love a good story as much as the next person Chris and this write tells one well. I do fear a storm coming for my children as I con't expect to be around for it. Nice write.

Posted by A. Paige White on 09/25/12 at 02:03 PM

LOVE this Chris! I think alot of us Pathetic Poets are dragon slayers in disguise... here's a sketch a little red head gave me a few days ago on a deep freezer that her mother gave us... sh... be bewy bewy quiet when your hunting dwagons... shhhhh....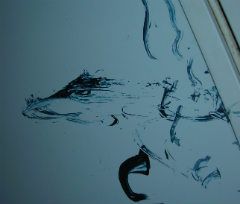 Posted by Christel Crews on 09/26/12 at 03:09 AM

chris - i hope you're not planning on going anywhere.. wouldn't know what to do if you left this website.. this is super creative and what's wrong with a little melodrama from time to time? hmmm? absolutely nothing! :-)
Posted by Kris Mara on 09/28/12 at 03:30 AM

I always look at you as solid -- in command of your creativity (or as much as one could try to be anyway)...and I don't get to read (or write) as much as I'd like, but when I stop by, I always have to see what cleverness you've captured...and you never let me down :)
Posted by James Zealy on 10/05/12 at 06:09 PM

There is the sense of that for everything we write. Who is going to see it, who is going to read it. Honestly, I write mostly for my own sanity and if others like it so be it. I don't find myself writing to an audience. There is an element of fatal flaws that no one is allowed to see but are alluded to in things I write.