Member Comments on this Poem
Posted by Jody Pratt on 09/24/12 at 11:59 PM

So melodramatic it hurts haha. I like this, and that's why I'm commenting. Not because the poem makes me feel obligated... because I WANT too.
Posted by Kristina Woodhill on 09/25/12 at 04:01 AM

I love how this segues into a biblical/mythological bent. Nothing demands more attention than the appearance of a fuming dragon, yes? :) Strength of words is sometimes admired, sometimes feared, sometimes creates a silence of contemplation, but never ignored. Those last four lines make me want to hear "the rest of the song". Thanks, Chris.
Posted by Joan Serratelli on 09/25/12 at 12:00 PM

Chris- this is just so good. I think you echo a lot of our sentiments about this site- Thanks!
Posted by George Hoerner on 09/25/12 at 12:42 PM

I love a good story as much as the next person Chris and this write tells one well. I do fear a storm coming for my children as I con't expect to be around for it. Nice write.
Posted by A. Paige White on 09/25/12 at 02:03 PM

LOVE this Chris! I think alot of us Pathetic Poets are dragon slayers in disguise... here's a sketch a little red head gave me a few days ago on a deep freezer that her mother gave us... sh... be bewy bewy quiet when your hunting dwagons... shhhhh....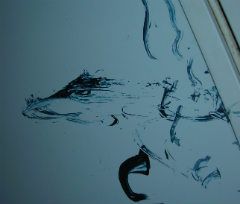 Posted by Christel Crews on 09/26/12 at 03:09 AM

chris - i hope you're not planning on going anywhere.. wouldn't know what to do if you left this website.. this is super creative and what's wrong with a little melodrama from time to time? hmmm? absolutely nothing! :-)
Posted by Kris Mara on 09/28/12 at 03:30 AM

I always look at you as solid -- in command of your creativity (or as much as one could try to be anyway)...and I don't get to read (or write) as much as I'd like, but when I stop by, I always have to see what cleverness you've captured...and you never let me down :)
Posted by James Zealy on 10/05/12 at 06:09 PM

There is the sense of that for everything we write. Who is going to see it, who is going to read it. Honestly, I write mostly for my own sanity and if others like it so be it. I don't find myself writing to an audience. There is an element of fatal flaws that no one is allowed to see but are alluded to in things I write.