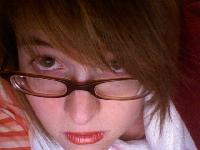 Country: USA
Member Since: August 2003
Last Login: 05/07/2013

"sometimes a scream is better than a thesis." [emerson]
"life's like a movie, write your own ending, keep believing, keep pretending..." [muppets]
"the purpose of life is not to be happy. it is to be useful, to be honorable, to be compassionate; to have it make some difference that you have lived and lived well." [emerson] Melinda is a member of The Bell Jar.

The following icons will enable you to enter different areas of this poet's library. Click on the appropriate icon to enter the area of your choice.