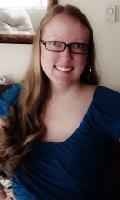 Occupation: English Teacher
State: Virginia
Country: USA
Member Since: March 2003
Last Login: 04/16/2016

I'm an 11th grade English teacher (I know I don't look old enough, but I am)
I really don't get a chance to write poetry as often as I used to, which is really disheartening...

The following icons will enable you to enter different areas of this poet's library. Click on the appropriate icon to enter the area of your choice.