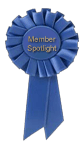 Occupation: eve
City: Baltimore
State: MD
Country: US
Member Since: November 1999
Last Login: 10/02/2014


As kingfishers catch fire, dragonflies dráw fláme;
As tumbled over rim in roundy wells
Stones ring; like each tucked string tells, each hung bell's
Bow swung finds tongue to fling out broad its name;
Each mortal thing does one thing and the same:
Deals out that being indoors each one dwells;
Selves—goes itself; myself it speaks and spells,
Crying, Whát I do is me: for that I came.

-G.M. Hopkins


its literal monument, or the continuing saga of whether blogging is worthwhile: http://incommonplaces.blogspot.com. Indigo is a member of the following groups: The Bell Jar, The New Beat Movement, and The Rainbow Connection.

The following icons will enable you to enter different areas of this poet's library. Click on the appropriate icon to enter the area of your choice.