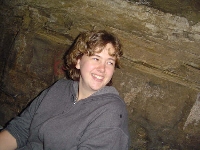 State: Vermont
Country: US of A
Member Since: December 2001
Last Login: 06/13/2016

Hello, my life has changed a whole lot since I first signed up for this site. I've become Catholic, met and married the most wonderful man I could have ever hoped to meet and together we have a beautiful son and a beautiful daughter. Its been an eventful time and the poetry by and large reflects that.


"Love is like Pi, natural, irrational, and important"

"If the sky were falling you'd deal with it"~ probably the coolest thing anyone has ever said to me.

"Zapperman Zapperman can shock you just like lightening can,crawled in the dryer one day long ago so now he can get rid of dorks with big egos he's taking aim for any reason on stupid roommates its open season......"~ For Mike and Dave Amy is a member of the following groups: Christian Poets, College Poet Community, The Bell Jar, and The Rainbow Connection.

The following icons will enable you to enter different areas of this poet's library. Click on the appropriate icon to enter the area of your choice.