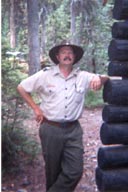 Occupation: English, German, And History
City: Beaver Dam
State: Utah
Country: USA
Member Since: September 1999
Last Login: 11/28/2023

I have written poetry since grade school, live on my grandfather's farm, and have spent most of my recent summers working and camping in the Yellowstone area. Leonard is a member of Christian Poets.

The following icons will enable you to enter different areas of this poet's library. Click on the appropriate icon to enter the area of your choice.