The Journal of Chris Sorrenti
Poetry of a Different Kind – Part 5 – A Mixed Bag
02/07/2012 01:00 a.m.


Preamble:

I'm finding this project extremely time consuming, on account of two reasons. The first, is that there is a bug in the Journal program here at Pathetic.org. One is unable to edit Journal pages once they've been uploaded, so if mistakes have been made, then the page has to be deleted, then reposted with them corrected. What I have been forced to do then is construct each individual Journal page in Microsoft Word, including whatever text I want to use, and then adding the hyperlinks to the photos. The second problem, is that I am using photobucket to host my pictures. It's a very "busy" site, with lots of animation on any given page, which often causes my computer to freeze. And I'm using a fairly up to date, otherwise fast computer, both on and off the internet.

Needless to say, although it's been a rewarding experience in one sense, an extremely frustrating one in another. Getting the photos ready (naming, touching up, and resizing) to upload is a big enough job in itself.


As I gradually sort through my photos, I'm continually finding more good shots to share, from various cameras and eras. Here's a few in chronological camera order, unless otherwise specified.


Photos taken with Pentax K-1000:

My son Jason at age 4; he just turned 29 in January: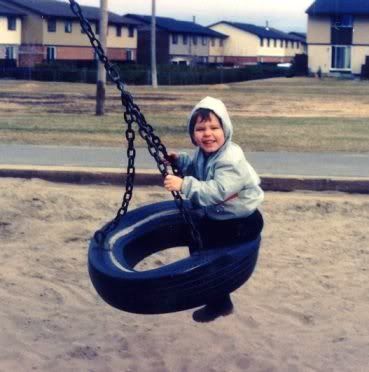 This next picture was taken by my son, Jason, with a (believe it or not) disposable 35mm camera. Proof positive that one doesn't have to be an expert shutterbug to get a good shot: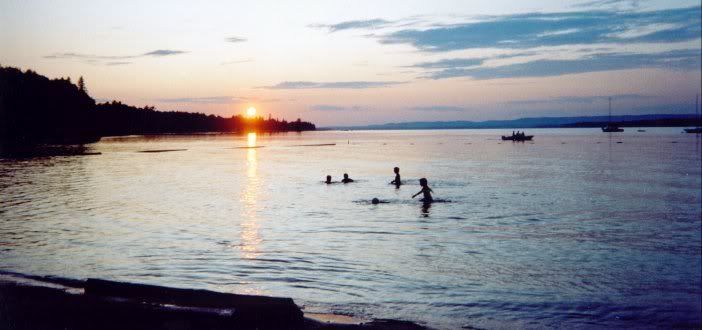 A couple more sunset shots at Baskin's Beach taken by myself: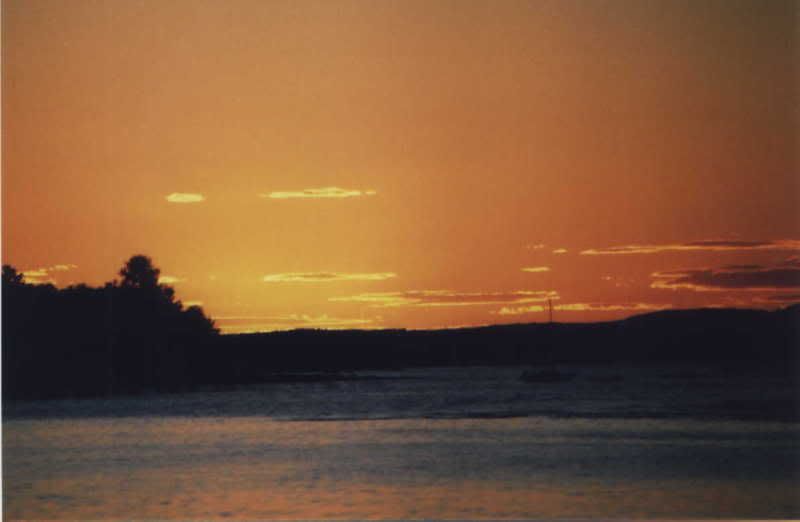 A parting photo of yours truly, taken in November 1982. I had recently been out to Edmonton, Alberta, to visit my brother-in-law at the time, and while there (do as the Romans do), bought a cowboy hat:






Photos taken with film Canon Rebel:


Although I've switched to digital, I still have a backlog of films, dating back to the mid 2000s. Historically, I've always tended to take more photos than my budget allowed for development, and I'm paying the price for it, especially now in terms of loss of quality, as film eventually degrades over time.


These next few pictures were taken in 2006, and only recently developed in December 2011. When I bring a roll of film in now, I have to tell the clerk that they're old films, and to please develop them no matter what. Thanks to Paint Shop Pro 7 (PSP7), despite degradation, I am fortunately able to restore a picture by altering the colors, and somewhat neutralizing the graininess, then crop, if necessary.

To give you a better idea, included below are two photos, using the above mentioned process, showing how they look when I first get them home, and then after I've played with them using PSP7:

Original discoloured shot home from Wal-Mart:




Two shots showing colour touch up and cropping of above photo with PSP7 to enhance:




Same process for another picture:

Original:




Enhancements:





In 2006, a large grove of trees behind my neighbourhood was levelled to make room for a housing project. Although a thin strip of woods was left for aesthetic and privacy, the downside to the development was that a large number of animals were displaced. With their homes gone, and not knowing where to go, me and my neighbours were faced with an invasion of wildlife, including groundhogs and skunks, that took up residence under back steps, utility sheds, etc. in our back yards. The same kind of development took place within a few miles radius, and it wasn't uncommon to sight deer and even coyotes within the parameters of these new suburbs…

From the same roll as the above lake shots, a groundhog that decided to make its home for a while under my back step: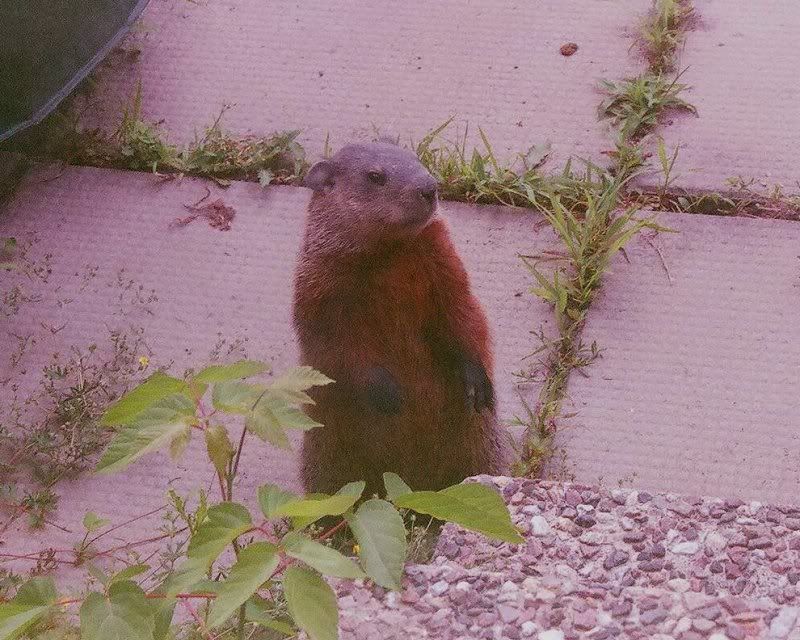 From another roll of film, taken in the summer of 2005, recently developed, but not as a degraded as the above pictures; a shot of my mother, Dorothy, and her golden retriever, Jazz. Mom passed away on October 18, 2009, after a three year battle with Cancer. My sister, who had taken possession of Jazz after mom died, had to have Jazz put down due to (ironically) a tumour, on December 26, 2011. So, thinking positively, a Christmas gift for my mother. I'd like to think then that she and Jazz are walking a beach somewhere in Heaven, as they used to do up at Baskin's':..





Photos taken with digital Canon Rebel:

My favourite color is blue, and so here are three shots using that colour as a theme. The first is in fact a photo taken by my brother, using his own digital Canon. With a little teasing thanks to shelled peanuts, I think it's safe to say he got what he was after: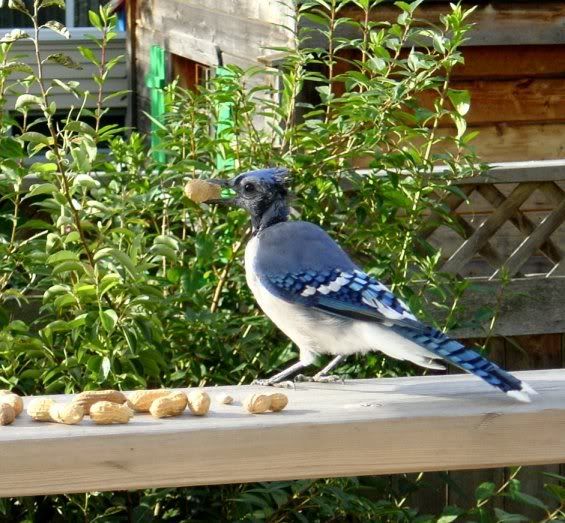 Here are a couple of my own; maple leaves on a car's back windscreen in October 2011, and a twilight shot taken in the neighbourhood last month; love the deep blue mixed with tree branches and street light. I took the shot with my flash turned off, and then adjusting the shutter speed and aperture of the camera lens: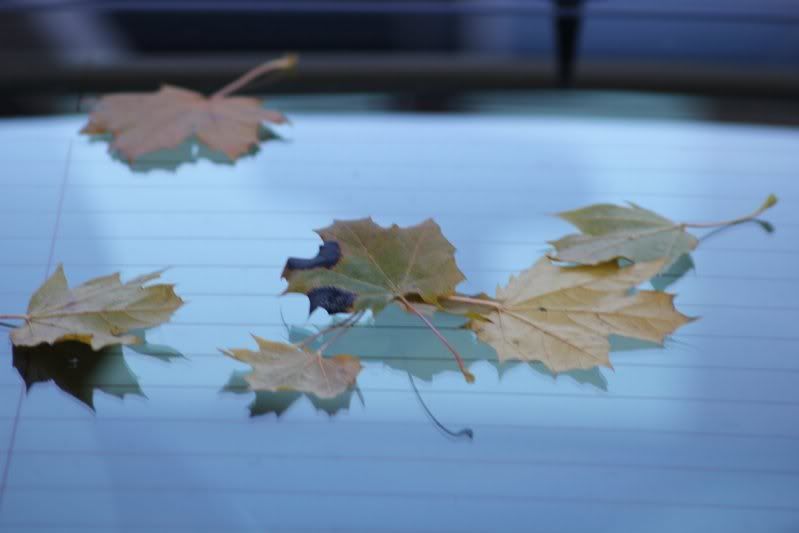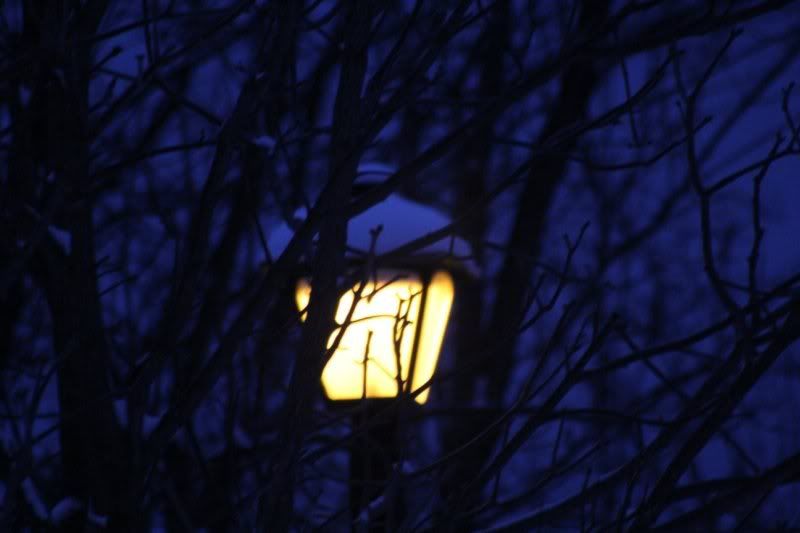 In a previous incarnation of this page:

Member Comments on this Entry
Posted by Clara Mae Gregory on 02/06/12 at 07:54 AM
I have the same problems with my page. I wanted you to know that I enjoy your pics and I am glad you take the time to post them. I noticed you posted the "Desiderata" too......I had a poster of it when I was 15 and it has been my creed, so to speak, in life ever since. ~hugs





Return to the Library of Chris Sorrenti